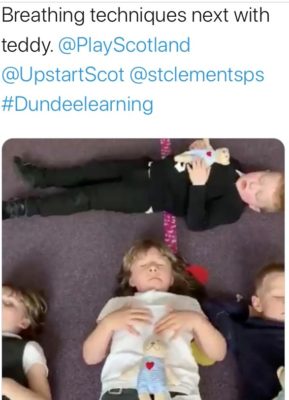 The Play Well project aims to investigate how parents and carers might be supported to help their child's health, wellbeing and learning through play.  It was recognised that the children starting or returning to early stages primary in 2020 would have had little or no transition support due to the pandemic and a focus on the development of social and emotional skills would be needed.
Project Aim
To improve health and wellbeing (social and emotional wellbeing), in Primary 1 children across 9 Dundee Primary schools by June 2021.
Project Objectives
to create a play based resource for teachers to support learning across school and home learning
to provide all families of P1 children in 9 primary schools with a home learning play pack and ideas of activities to support learning through play at home
to engage families in their child's learning.
The Education Endowment Foundation describes social and emotional learning as:
Self-awareness – understanding and expressing feelings
Self-regulation – understanding and managing our emotions, thoughts and behaviours in different situations
Social awareness
Relationship skills
Responsible decision making.
How will the project be monitored and evaluated?
Using Educations Scotland's HGIOS4 – Family Learning Challenge Questions 2.5 we want to find out:
To what extent does this resource support meaningful engagement with families?
Are outcomes for children improving as a result of their participation in this family learning opportunity?
A second year Educational Psychologist Trainee student will undertake an evaluation of this project and develop tools to gather evidence of impact.
11 Cards were developed and can be found below. The cards had either a series of emojis or a palette of colours on the other side of the activity.  This was to allow class teachers and parents/carers to engage with children in discussions about emotions in an open and non-prescriptive way.