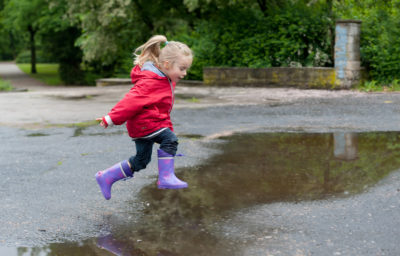 Play makes physical demands of children and young people and thus works to improve health and wellbeing. NHS Scotland recommends that we should be physically active every day.
Babies
Babies should be encouraged to be active throughout the day, every day. Before your baby begins to crawl, encourage them to be physically active by reaching and grasping, pulling and pushing, moving their head, body and limbs during daily routines, and during supervised floor play, including tummy time. Once babies can move around, encourage them to be as active as possible in a safe, supervised and nurturing play environment.
Toddlers
Children who can walk on their own should be physically active every day for at least 180 minutes (three hours). This should be spread throughout the day, indoors or outside. The 180 minutes can include light activity such as standing up, moving around, rolling and playing, as well as more energetic activity like skipping, hopping, running and jumping. Active play such as, using a climbing frame, riding a bike, playing in water, chasing games and ball games, is the best way for this age group to get moving.
All children aged under five
Children under five should not be inactive for long periods, except when they're asleep. Watching TV, travelling by car, bus or train, or being strapped into a buggy for long periods are not good for a child's health and development. There's growing evidence that such behaviour can increase their risk of poor health.
What counts as light activity for children?
Light activity for children includes a range of activities, such as:
standing up
moving around
walking
less energetic play
What counts as energetic activity for children?
Examples of energetic activities suitable for most children who can walk on their own include:
active play such as, hide and seek and stuck in the mud
running around
jumping on a trampoline
riding a bike
dancing
swimming
climbing
skipping rope
gymnastics
Energetic activity for children will make kids "huff and puff" and can include organised activities, such as dance and gymnastics. Any sort of active play will usually include bursts of energetic activity.
(extract from NHS Health Scotland web).
Guidelines for children and young people
aged 5-18
To maintain a basic level of health, children and young people aged 5 to 18 need to do:
at least 60 minutes of physical activity every day – this should range from  moderate activity, such as cycling and playground activities, to vigorous activity, such as running and tennis
on three days a week, these activities should involve exercises for strong muscles, such as push-ups, and exercises for strong bones, such as jumping and running
Many vigorous activities can help you build strong muscles and bones, including anything involving running and jumping, such as gymnastics, martial arts and football.
Children and young people should reduce the time they spend sitting watching TV, playing computer games and travelling by car when they could walk or cycle instead.
What counts as moderate activity?
Examples of activities that require moderate effort for most young people include:
walking to school
playing in the playground
riding a scooter
skateboarding
rollerblading
walking the dog
cycling on level ground or ground with few hills
Moderate activity raises your heart rate and makes you sweat. One way to tell if you're working at a moderate level is if you can still talk, but you can't sing the words to a song.
What counts as vigorous activity?
Vigorous activity is linked to better general health, stronger bones and muscles, as well as higher levels of self-esteem.
There is good evidence vigorous activity can bring health benefits over and above that of moderate activity. A rule of thumb is that one minute of vigorous activity provides the same health benefits as two minutes of moderate activity.
There's currently no recommendation on how long a session of vigorous activity should be for this age group.
Examples of activities that require vigorous effort for most young people include:
playing chase
energetic dancing
swimming
running
gymnastics
football
rugby
martial arts, such as karate
cycling fast or on hilly terrain
Vigorous activity makes you breathe hard and fast. If you're working at this level, you won't be able to say more than a few words without pausing for a breath.
(Extract from NHS Health Scotland Web)
Guidelines aged 19-64 years
To stay healthy, adults aged 19-64 should try to be active daily and should do:
at least 150 minutes of moderate aerobic activity such as cycling or brisk walking every week, and
strength exercises on two or more days a week that work all the major muscles (legs, hips, back, abdomen, chest, shoulders and arms)
(Extract from NHS Health Scotland web)