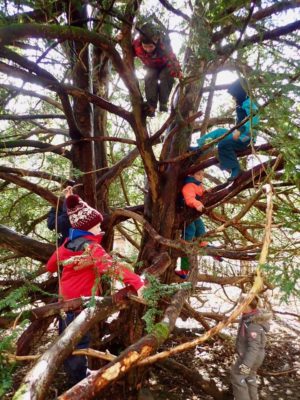 "We know how babies and children learn best. They learn best in an environment of quality interactions, interesting spaces and when the experiences on offer are set in meaningful contexts. They learn best in environments that inspire them to be curious and creative."

Realising the Ambition, Education Scotland
What is Playful Pedagogy?
Playful Pedagogy is a way of integrating children's play experiences with curricular learning, giving pupils the flexibility to find their own solutions to both new and existing problems. It engages children in personally meaningful activities, learning about themselves and others, and encourages autonomy and their independent motivation-to-learn.
Learning Adventures. Playful Pedagogy is facilitated by teachers by something we term a "learning adventure", the goal of which is to enable whole classes, and every individual child within it, to determine their own learning goals and pathways while remaining within the framework of the Early Years Curriculum. When a school takes the whole-team approach to playful pedagogy, this can be a Learning Adventure which involves everyone: pupils, teachers and parents.
Government-endorsed. As well as having an enormous weight of evidence to support it, the approach is strongly endorsed and supported by The Scottish Government's guidance and priority policy objectives, as articulated in Realising the Ambition (see resources at the bottom of the page).
This resource is for Headteachers, teachers and schools who wish to carry forward this vision of best practice and to teach better, develop their professional skills, and enjoy themselves more along the way.
The resource has three sections: 
Why Playful Pedagogy gives an overview of the argument for the approach with links to some key resources, so you can be clear in your head and can explain to others why you are trying it out or intend to implement it as core practice.
Getting Started with Playful Pedagogy provides you with all you need to conduct your first Learning Adventure, and overview, a "how to" and a great case study by a P1 teacher who has been on that journey.
Playful Pedagogy across the school includes key considerations and resources on how to reorient your school culture and systems so as to enable best practice, without overburdening staff, and bringing pupils, teachers and parents on board the journey.
We hope you will find this of use to your practice. Those teachers and schools that dip their toe in, never tend to look back.