"Inclusion and accessibility are at the core of the national principles underpinning our £60 million investment in renewing play parks across Scotland. So, too, is listening to children and young people's views about how they can be supported through play to be active, healthy and happy. I welcome this statement on inclusive and accessible play which supports everyone involved in providing play spaces and environments to ensure they can be enjoyed by all children and families."
Clare Haughey, MSP, Minister for Children and Young People
"Accessible and inclusive environments and facilities must be made available to children with disabilities to enable them to enjoy their rights under article 31…as equal and active participants in play, recreation and cultural and artistic life."
General Comment 17, UNCRC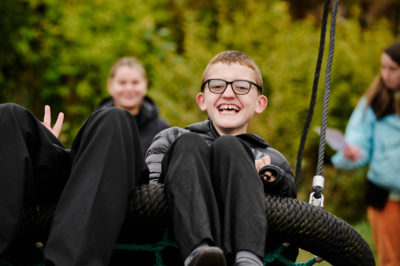 Including Disabled Children in Play Provision, a joint statement from the Children's Play Policy Forum and UK Play Safety Forum, states that society has failed in producing enough accessible and inclusive places for children to play within a reasonable distance of their homes. It makes clear that
a positive, solution-focused attitude is essential to include disabled children
it is possible to make adaptations to increase accessibility and remove barriers to participation by engaging with and prioritising the needs of disabled children and their families,
there is an urgent need to change public attitudes
more welcoming spaces must be created which maximise the range of play opportunities offered by the equipment and the environment.
The statement also calls for consistent use of the terms accessible and inclusive play.
Inspiring Inclusive Play Design
The Inspiring Inclusive Play Design is a summary of the principles and standards of inclusion relating to play. This literature review identifies what is currently available and draws primarily on documents published by the national play sector organisations: PlayBoard NI, Play England, Play Scotland and Play Wales. Play Scotland produced this report for the UK Children's Play Policy Forum (CPPF). Overall we found the resources reviewed provide a rich source of information and guidance on the principles and practice of developing inclusive play spaces. Further work in this area is on-going through the CPPF.