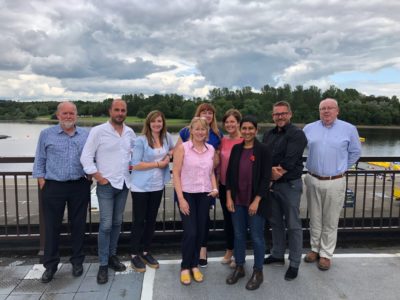 Play Scotland has a vibrant, enthusiastic and committed Board of Directors who meet regularly. The highlights of every year are the Staff/Board Away Day where we all get out to
play and the AGM-Seminar. The Board is committed to diligent governance and regular
training for all Board members.
"I am proud to have the opportunity to chair the board and wish to help Play Scotland  build on the achievements and policy change which the organisation has made: protecting the rights and promoting the benefits of play for all children and young people in Scotland."
Calum Duncan (February 2020)
Heather Armstrong
I am an arts professional with extensive experience delivering child-led arts practice, and in particular harnessing the transformational power of the arts and creativity to improve the lives of our youngest citizens. I have particular expertise using the arts and creativity to deliver key Scottish Government Early Years policies, including Curriculum for Excellence, Pre-Birth to Three Guidance, Getting It Right for Every Child (GIRFEC), Closing the Attainment Gap and fulfilling Scotland's Commitment to the UN Convention on the Rights of the Child.
Liane Bauer
Liane is a chartered member of the Landscape Institute and member of the Architektenkammer Berlin. She has 13 years of experience as a Landscape Architect, in which she has worked in New Zealand, Australia, Germany and the United States. Since relocating to Scotland Liane has served as Director at City Design Cooperative, is currently an Associate at rankinfraser landscape architects and has co-founded UrbanPioneers Landscape Architects and an Associate at rankinfraser landscape architecture.
The work of her own practice focuses on socio-political work. Through extensive work with schools and local authorities Liane has developed a particular interest in play and the current limitation for free play in our society. With her office UrbanPioneers Liane has published an article for Architecture & Design Scotland on "Invest more, not less in Outdoor Learning" as part of their Better Briefing for Education Benefit series and has interviewed Edinburgh pupils about their way to school with the intension to create a playable city.
Liane is also a co-producer of the Architecture Fringe. Initiated by a group of architects, designers, landscape architects, photographers, engineers, visual artists, curators and musicians the Architecture Fringe is an independent contributor-led series of projects and events across the arts which explores architecture and its impact.
John Cleary, Treasurer
Since graduating in 1983 I have worked for Aiton & Co Chartered Accounts in different positions. Starting as a trainee CA and finishing up as Senior Partner in 1994.
Voluntary work for Trustee, Hayfield Ltd.  A charity providing support services for deaf people with special needs and  'Tax Help for Older People' A service providing free tax advice where required.
Have been a Play Scotland Board Director since 2009 and Treasurer since 2010.
Married with 4 children.
Calum Duncan
Calum established Calum Duncan Architects after 17 years with Malcolm Fraser Architects. Significant project experience included working on the Stirling Prize shortlisted Dance Base in Edinburgh's Grassmarket; Dance City, Newcastle with a multi-use programme of flexible dance studios.  Within Berwick-upon Tweed's historic town walls, a Conservation area, Calum was project architect for Berwick Workspace, involving a new building within the tight historic pattern, including: workspaces, conference and flexible community use. Edinburgh Centre for Carbon Innovation, for the University of Edinburgh, is the first listed building to achieve BREEAM 'Outstanding'.  This alteration of the significant Old High School building was a complex project from the perspective of conservation, access requirements and sustainability. 
This experience demonstrates Calum's interest in, multi-use building programmes and a sensitive modern design approach with an understanding of conservation issues and a strong environmental agenda, but without the sacrifice of quality of design or function.
Professor Sukanya Krishnamurthy
Sukanya Krishnamurthy is a Chancellors Fellow/ Senior Lecturer at the School of Geosciences, University of Edinburgh. Her focus lies at the interface between urban and social geography, where her scholarship analyses how cities can use their resources and values for better sustainable development.
Key interests include, place-making and participatory approaches, urban cultures and representation, society and smart urbanism. Over the last years she has bought these interests together within child friendly planning and enabling the agenda of context driven planning. Some lines of inquiry include, how urban spaces are accessed/ consumed by children and child-minders, mapping everyday lives of children, and developing capacity to address challenges related to inclusive planning.
She is a member of research evaluation commissions and board member of various civic society associations. She has been a PI and team member on research projects (EU, NWO, third sector funding) in the Netherlands, Germany, Canada, Israel, UK, Turkey and India.
Paul Liddell, Vice Chair
Paul is current National Officer and former Interim National Head of BBC Children in Need in Scotland.  He is the first point of contact for hundreds of organisations funded to support disadvantaged children and young people across the nation.
BBC Children in Need are one of the biggest independent funders of play in the UK and Paul is one of the charity's Play Champions.  His experience of grantmaking spans almost 13 years, coming to BBC Children in Need from the Big Lottery Fund where he managed the Young Start fund and the Third Sector Early Intervention Fund.
Kevin Kane
My current role is Policy and Research Manager for YouthLink Scotland.  I lead the development of youth work policy impacting on young people's lives, investigating and responding to current and emerging policy and legislative issues affecting young people and the youth work sector, ensuring that YouthLink Scotland's policy agenda is reflective and responsive to young people. A key focus of my role is leading on co-developing and producing the new National Youth Work Strategy (20-25) and implementation plan, alongside strategic partners, The Scottish Government and Education Scotland.