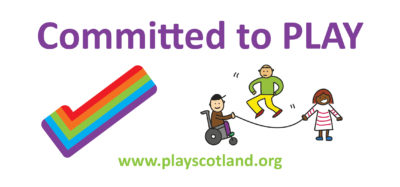 Become a Play Champion – sign the Play Charter pledge
Play Scotland promotes Scotland's inclusive Play Charter. This describes a collective commitment to play for all babies, children and young people in Scotland.
The Charter is for parents, play providers, play champions and everyone with an interest and/or responsibility for play in Scotland.
The aim of Scotland's Play Charter is to:
Highlight that every child has the right to play in line with Article 31 of the UNCRC and raise awareness of the importance of play for all babies, children and young people
Ensure a commitment to play is more strongly embedded within policies, strategies, key qualifications and CPD training
Ensure that children and young people are supported in their right to play and that play spaces are valued within communities
Inspire individuals, play providers and organisations to promote a range of inclusive play opportunities
Bring back the sight and sound of children playing in our communities
Who are Play Champions? – we can all be Play Champions
Play Champions are professionals, elected members, community representatives and individuals who uphold children's right to play and commit to strategies and policies that support play.  
Local Play Champions ensure that play is always prioritised in planning, strategies and services. 
Play Champions take a lead in highlighting the importance of play and seek out opportunities for dialogue with children and young people, their families and communities. 
How do I sign the Play Charter?
Should you wish to pledge your support to the Play Charter please send your name, job title, organisation, web address and your logo to info@playscotland.org
Your details will be shown on our website if you wish.
By supporting the Charter you will be recognised as a Play Champion.  Organisations and individuals who pledge their support will be awarded the 'Committed to PLAY' stamp which can be used on resources and websites.
You can download a copy of the charter below:

"It is not always about play equipment; it is about the space and time for play."

Ruth Maguire MSP