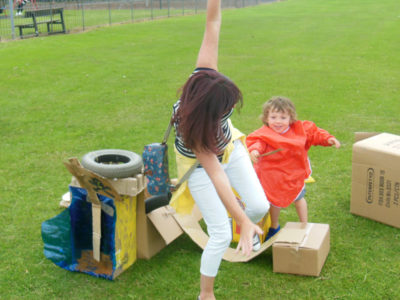 "Children's play is any behaviour, activity or process initiated, controlled and structured by children themselves; it takes place whenever and wherever opportunities arise"
General Comment 17, UNCRC
Play has been described as what children and young people do when they are not being told what to do by adults!
The importance of play
The Play Strategy for Scotland values play as a life-enhancing daily experience for all our children and young people. The Strategy describes play as children's behaviour that is freely chosen, personally directed and intrinsically motivated. It is performed for no external goal or reward, and is a fundamental and integral part of healthy development- not only for individual children but also for the society in which they live.
The child's right to play, Article 31, United Nations Convention on the Rights of the Child
States Parties recognise the right of the child to rest and leisure, to engage in play and recreational activities appropriate to the age of the child and to participate freely in cultural life and the arts.
States Parties shall respect and promote the right of the child to participate fully in cultural and artistic life and shall encourage the provision of appropriate and equal opportunities for cultural, artistic, recreational and leisure activity.

Article 31, UNCRC
In General Comment 17, the United Nations Committee on the rights of the child reaffirms that play is a fundamental and vital dimension of the pleasure of childhood, as well as an essential component of physical, social, cognitive, emotional and spiritual development.
Key characteristics of play are fun, uncertainty, challenge, flexibility and non-productivity. Play can happen indoors or outdoors, with or without adults, in spaces and places chosen by children and young people.
"Play in all its rich variety is one of the highest achievements of the human species, alongside language, culture and technology. Indeed, without play, none of these other achievements would be possible. The value of play is increasingly recognised, by researchers and within the policy arena, for adults as well as children, as the evidence mounts of its relationship with intellectual achievement and emotional well-being."

Professor David Whitebread, The Importance of Play 2015
Children need play to survive and thrive.

Children need time, permission and space to play, with more opportunities to experience risk and develop resilience through play. Play is a powerful builder of happy, healthy, capable children. Children's play needs a broad and comprehensive approach, involving cross departmental collaboration and accountability.

Play Builds Children
"Investing in children's play is one of the most important things we can do to improve children's health and wellbeing in Scotland."

Professor Sir Harry Burns, Former Chief Medical Officer Scotland