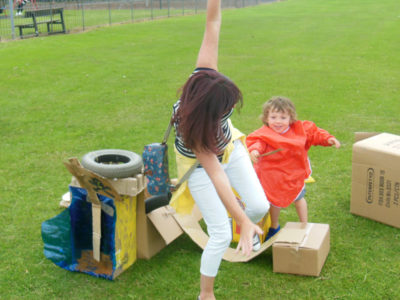 Being in play, being in the state of mind that says, 'I wonder what might happen if I tried this' and then not worrying or being afraid of the outcome, is a state of mind that can cope with the unexpected
Michael Rosen, Book of Play
How to support play
Play is a life-enhancing daily experience for all our children and young people. Play is freely chosen, personally directed, and intrinsically motivated. It is performed for no external goal or reward and is a fundamental and integral part of healthy development- not only for individual children but also for the society in which they live.
Children are almost always playing in some way, and adults often merely need to stand back and allow them the time and space to do it. But sometimes we hear the dreaded "I'm bored!" and it is clear that they need some support or ideas. It is also really important to play with children for creating happy memories and creating healthy relationships.
We have lots of easy and low cost or no cost ideas below – why not try some out!