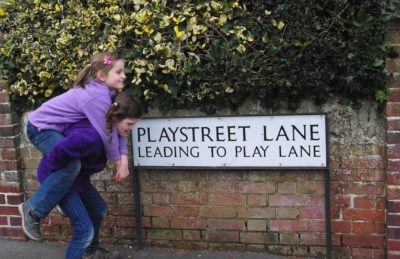 "Children are the generators of community life"
Dinah Borat, Architect
"Adults spend more time outdoors where children are also outdoors, enhancing opportunities for social interaction."
Arup Cities Alive
The Play Strategy for Scotland highlights the need to ensure all children and young people have sufficient time and space for playing within their community and have contact with nature in their everyday lives.  It recognises the need for various public bodies and charities to work towards this, including the land use planning and community planning systems.
Consideration needs to be given to the planning and design of public spaces, and children and young people need to be able to find clean, safe and welcoming spaces to play and gather near their homes where they are not considered a nuisance by others in their communities.
"There is a need for a new élan with which children are assigned a more prominent role in public space. That means recognition of the spatial claims of children, not only to improve the everyday lives of children, but also to enrich the city and city life."

In the footsteps of Aldo van Eyck, L Karsten
Place and place-making
The Place Principle is intended to support local communities and partners plan and care for the places where they live and work.
"Place is where people, location and resources combine to create a sense of identity and purpose, and are at the heart of addressing the needs and realising the full potential of communities.  Places are shaped by the way resources, services and assets are directed and used by the people who live in and invest in them."
The Place Principle, Scottish Government
"Access to play is not equally distributed in Scotland. Challenges faced by children – poverty, disadvantage or disability discrimination – intersect with and compound inequality of opportunity."

Professor John McKendrick
Planning for playful communities
The Place Standard Tool was developed by Scottish Government, NHS Health Scotland and Architecture and Design Scotland to provide a framework for structured conversations about place and the delivery of high-quality public spaces which can help reduce health inequalities.
Access to environments which allow children and young people to socialise, explore, play and exercise is essential to promote positive health and wellbeing outcomes. Play Scotland and A Place in Childhood have produced Place Standard tools for children and young people to complement the core tool to ensure their voices will be taken into account within planning and placemaking discussions.
The Planning (Scotland) Act 2019 includes a statutory right for children and young people to participate in all stages of local development planning, as well as stipulating a 'Play Sufficiency Duty.'  Play Sufficiency Assessments (PSAs) will be carried out by local authorities to assess the sufficiency of opportunities for play in their area with regard to both quantity and quality. Play Scotland is working with a Scottish Government led group to develop the guidance.
"Play, as we know, is an essential part of a healthy, happy childhood, taking place within the home from birth, through formal and informal learning, and in community settings through the use of public spaces and services."

Aileen Campbell MSP Former Minister for Children and Young People
Tools for encouraging play in your local area
We have created an easy to use toolkit that pulls together lots of tested ideas for communities to help them think about how they might work together to improve children and young people's play opportunities and in doing so, improve the environment for everyone.
Alongside this toolkit, we have created these A4 posters that can be printed off and used in communities.
Example of good practice