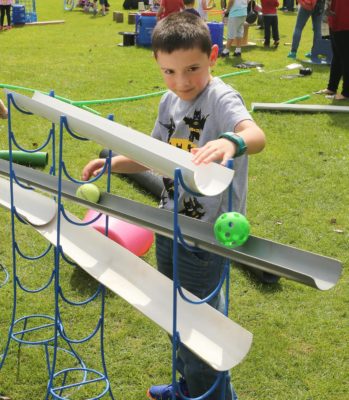 "Children learn how to learn when they are playing, and bringing more play into the school day will foster children's natural curiosity and motivation to learn."
Maree Todd, Minister for Children and Young People
"Play is key to raising attainment"
Scottish Government
Playing is an integral part of children's day in many educational and childcare settings.  Children play before the bell goes in the morning; at playtime and lunchtime; and after school ends.  Increasingly, playing is part of class time across Scotland too.  Educators are getting better at recognising the interconnections between playing, learning, growing, developing, being healthy and being happy.
Who is the Toolkit for?
The Play Types Toolkit is intended for schools and education professionals though we are sure people in other settings will also find it useful.
The aim is to highlight the range of types of play children experience, their vital contribution to learning and development, and to make integration of play into the curriculum simpler.
What do we mean by play types?
Play types can simply be described as the different behaviours we can see when children are playing.
You can view the different  play types here.
How to use the Toolkit
The Toolkit aims to:
highlight the range of types of play children experience
highlight their vital contribution to learning and development
make integration of play into the curriculum simpler
We have grouped the different types of play together under useful learning headers: