See national Playhub for exciting resources and play ideas from a range of providers
Play Scotland welcomes the announcement from the First Minister removing the requirement of children aged 11 and under to physically distance when out playing with their friends from 3rd July 2020. CEO Marguerite Hunter Blair was very happy with this necessary development.
"This is fantastic news for children, young people and families in Scotland. We are delighted that the First Minister has been able to support children's play, with all the benefits this brings in terms of health, wellbeing and FUN. We realise this does not include children who are shielding and will consider what support can be made available to meet their play needs."
The First Minister's statement can be found here  https://www.playscotland.org/first-minister-nicola-sturgeon-announcement/.
More useful resources and information »
Play Scotland has created the Home play pack in order to support children and families to stimulate their imagination, creativity and play time during these challenging times.
Play Scotland's Play Types Toolkit is for schools and educations professionals, and others working with children in various settings.
This paper is a summary of the principles and standards of inclusion relating to play that are reflected in resources drawn from the four nations.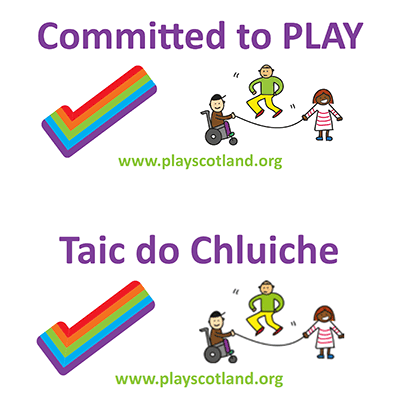 Scotland's Play Charter describes our collective commitment to play for all children and young people. Supporters of the Charter:
recognise that all children have the right to participate in play activities and experiences
value play as a life-enhancing daily experience for all our children
support children to have fun, creative, fulfilling and development rich play experiences throughout their childhoods
recognise that playing is an essential part of a happy childhood as well as being vital to children's wellbeing as individuals and members of society.