See national Playhub for exciting resources and play ideas from a range of providers
New Playful Pedagogy Resources from Play Scotland to support everyday learning adventures across the school
Playful Pedagogy is a way of integrating children's play experiences with curricular learning, giving pupils the flexibility to find their own solutions to both new and existing problems. It engages children in personally meaningful activities, learning about themselves and others, and encourages autonomy and their independent motivation-to-learn.
This resource is for Headteachers, teachers and schools who wish to carry forward this vision of best practice and to teach better, develop their professional skills, and enjoy themselves more along the way.
The resources are in three sections
"Play Scotland is delighted to launch these innovative and timely resources to support a playful and positive return to school for pupils and teachers. Special thanks to Dr Jenny Wood and Dr Jamie McKenzie Hamilton @ APiC, A Place in Childhood."

– Marguerite Hunter Blair CEO Play Scotland
Scottish Government Guidance
The Scottish Government's guidance on the re-opening of unregulated indoor children's activity:
Schools and regulated ELC are beginning again from 11 August and we are receiving queries about whether other indoor activity may resume at the same time.
The answer is that indoor activities for children and young people which are not overseen by a regulator should not start again until agreed guidance is in place.  Unfortunately, back to school does not mean back to normality and for now, ensuring that the transition back to school is successful is our top priority.
For now, activities for children and young people under the age of 18  should continue online or outdoors in line with existing guidance. 
We know that these indoor activities are of huge value to children, young people and families across Scotland and our ambition is to get them open soon as soon as this is deemed appropriate.  We will provide further information about timing with additional guidance where this is necessary.
More useful resources and information »
Play Scotland and Save the Children are delighted to launch the Play Well pack, which is packed full of suggestions, ideas and tips to support your child's play and learning at home.
The Playful Schools Project was a collaboration between Play Scotland and ScrapAntics CIC, funded by the Scottish Government's Wellbeing Fund. It was a pilot project to explore the potential for Loose Parts Play to promote children's mental health and wellbeing in the context of Covid-19.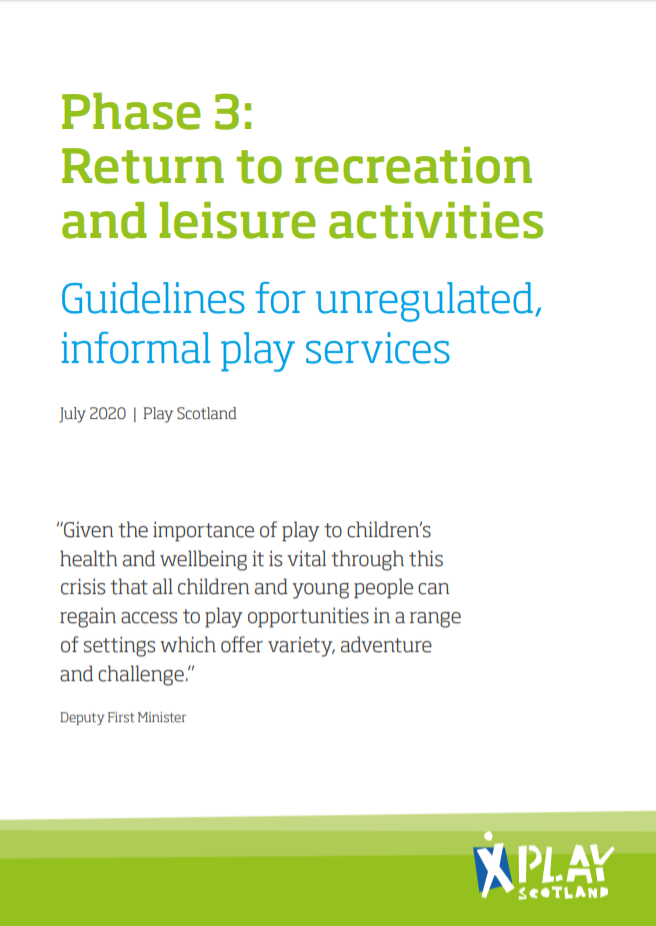 Play Scotland is pleased to release Guidelines for unregulated, informal play services which are intended to support the play sector as they consider resuming outdoor organised activities.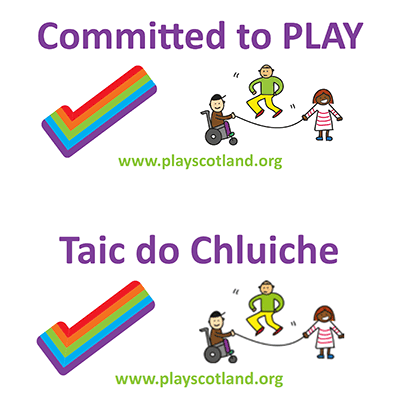 Scotland's Play Charter describes our collective commitment to play for all children and young people. Supporters of the Charter:
recognise that all children have the right to participate in play activities and experiences
value play as a life-enhancing daily experience for all our children
support children to have fun, creative, fulfilling and development rich play experiences throughout their childhoods
recognise that playing is an essential part of a happy childhood as well as being vital to children's wellbeing as individuals and members of society.