See national Playhub for exciting resources and play ideas from a range of providers
Children across Scotland want more play and better play
Over the last year, Scotland has had to respond rapidly to the major impact of COVID-19.  Children and young people have seen their freedom to play and opportunities to socialise with their friends severely curtailed. Research continues to show that there has been a negative impact on their physical and mental health as a consequence of play deprivation.
The Play Strategy Progress Report (2021) highlights how play organisations have responded to the pandemic and evidence of the impact of emergency measures on children and young people. It takes account of mitigating measures that the Scottish Government have put in place to support children's play at a time of national crisis and provides eight recommendations on how Scotland's Play Strategy should be taken forward in the light of COVID-19.  The Progress Report and supporting documents can be found here.
Maree Todd, Minister for Children and Young People said "We have worked closely with the play sector to protect children's right to play during the pandemic, as outlined in Play Scotland's report. We understand the value of outdoor play for children's wellbeing and resilience, as well as their physical and mental health. I welcome the consultation with children and young people and the insight into how their play opportunities have been affected by COVID-19 restrictions."
Summer of Play
Play Scotland welcomes the announcement of the enhanced summer offer for all children and young people to provide them with opportunities to socialise, play and reconnect within their local communities. The Scottish Government has announced a £20 million fund to provide support for children and young people who would otherwise struggle to access such experiences. See more in news.
More useful resources and information »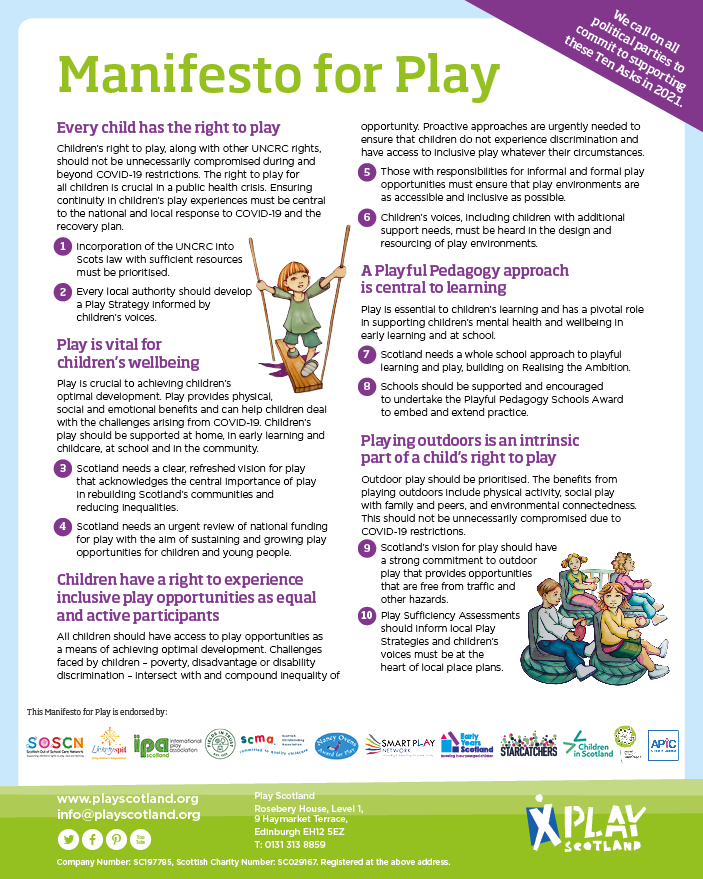 Play Scotland are delighted to launch the Manifesto for Play. Play is vital to children's physical, social and emotional wellbeing.
Play in a COVID-19 context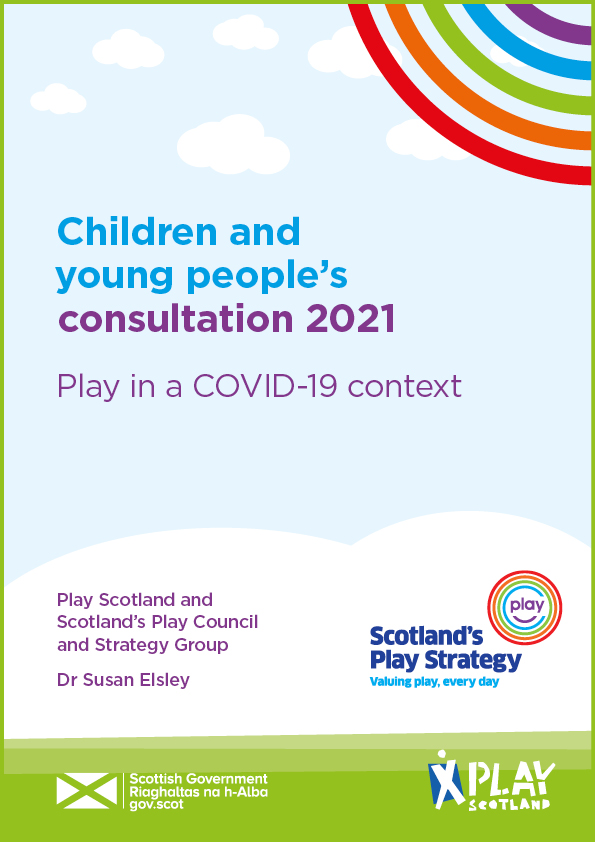 Play in a COVID-19 context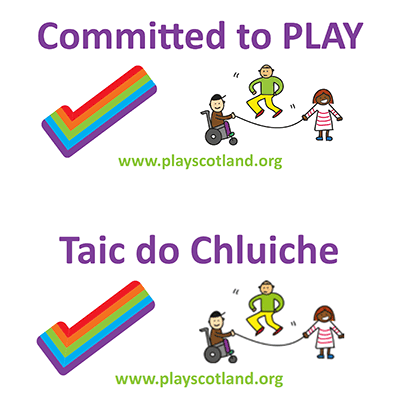 Scotland's Play Charter describes our collective commitment to play for all children and young people. Supporters of the Charter:
recognise that all children have the right to participate in play activities and experiences
value play as a life-enhancing daily experience for all our children
support children to have fun, creative, fulfilling and development rich play experiences throughout their childhoods
recognise that playing is an essential part of a happy childhood as well as being vital to children's wellbeing as individuals and members of society.