See national Playhub for exciting resources and play ideas from a range of providers
Manifesto for Play
Play is vital to children's physical, social and emotional wellbeing.
This Manifesto for Play advocates for children's play opportunities with Ten Asks for Play. We call on all political parties to commit to supporting these Ten Asks in 2021, building on what has been achieved over the last ten years for children's right to play in Scotland. Children's play needs must be assessed and prioritised in policy and practice as we recover from the impact of the COVID-19 pandemic.
Join us in supporting the #tenasksforplay
Why playing is important
Children need play to survive and thrive. Play is a life-enhancing experience which fosters resilience, the ability to handle stress, challenges and setbacks. "Just playing" can help build children's capacity to cope with highly stressful situations.
Play builds health and wellbeing – being active through play helps physically and emotionally, contributing to their health and happiness
Play builds resilience – playing boosts children's confidence, creativity, problem-solving skills and perseverance, enabling them to cope with stress and challenges through life
Play builds friendships – playing allows children to interact with others, develop relationships, deal with conflict, and learn respect and tolerance
Play builds communities – playing allows children to learn about the world around them, make connections, and develop a sense of identity and belonging As they grow and develop, play offers children the opportunity to develop a range of physical, emotional and social skills, helping to make sense of the world they find themselves in.
More useful resources and information »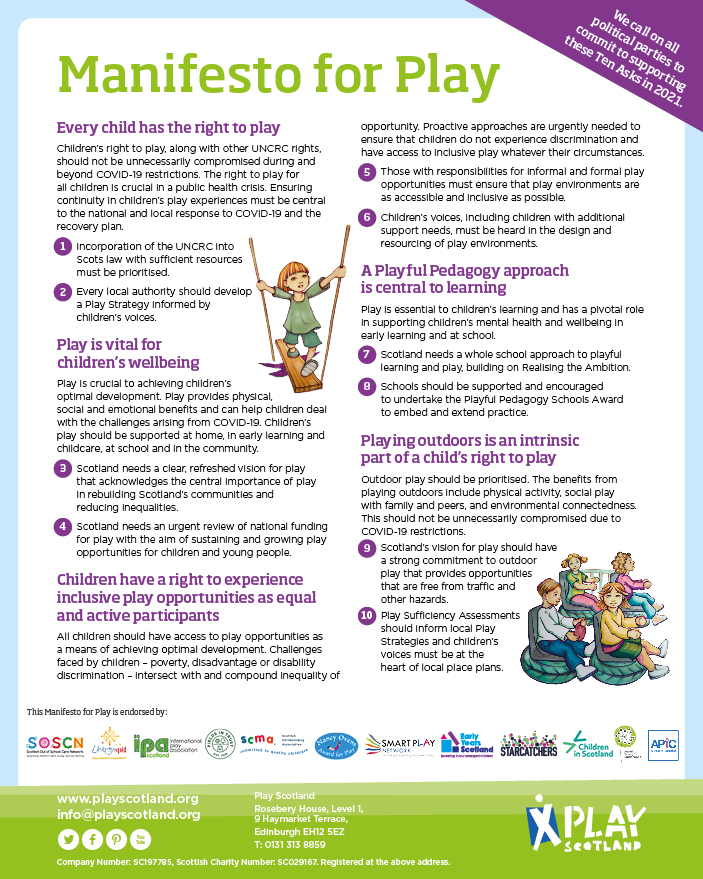 Play Scotland are delighted to launch the Manifesto for Play. Play is vital to children's physical, social and emotional wellbeing.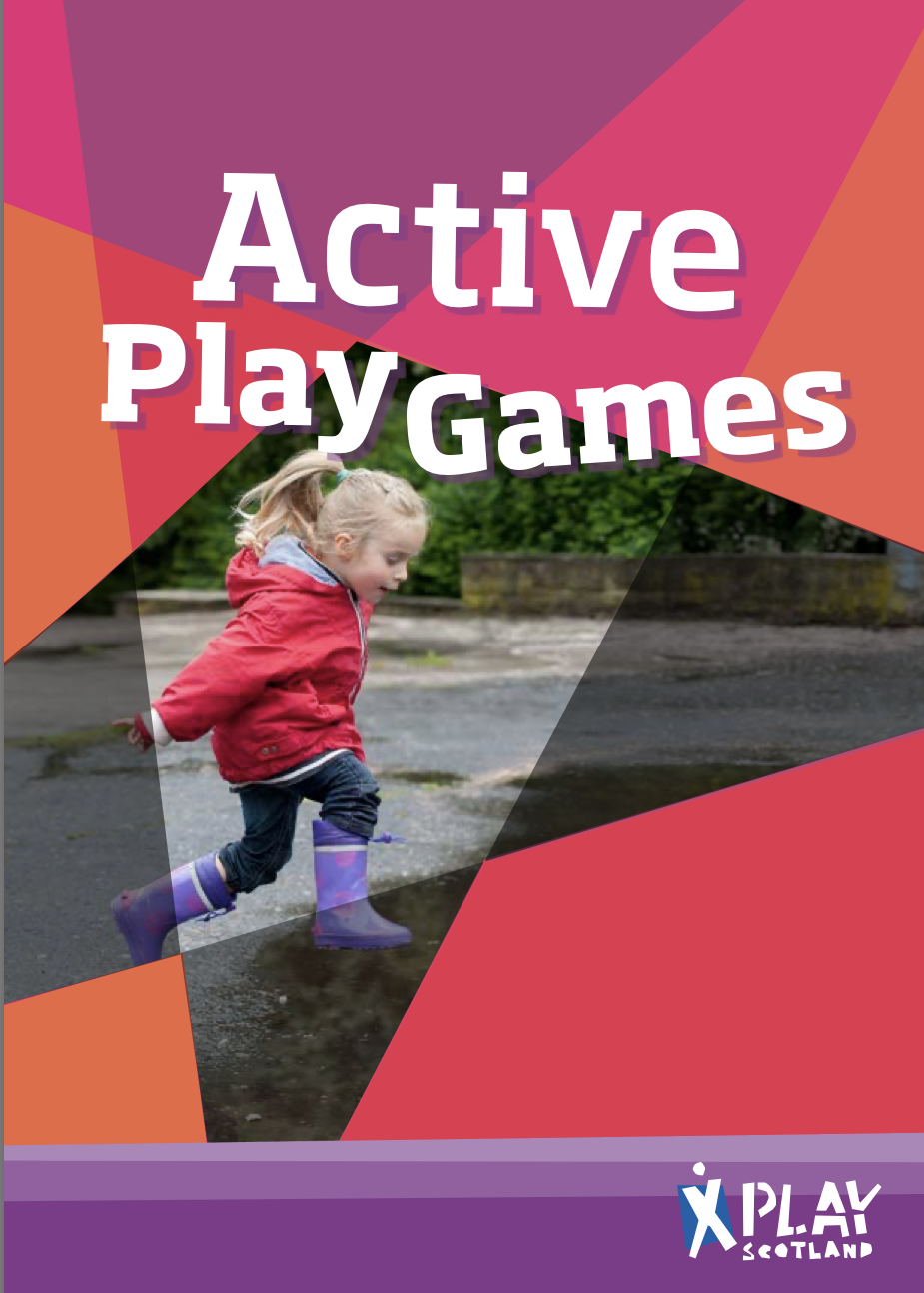 Active outdoor play is essential for our children and young people to understand, value, enjoy and protect our natural world.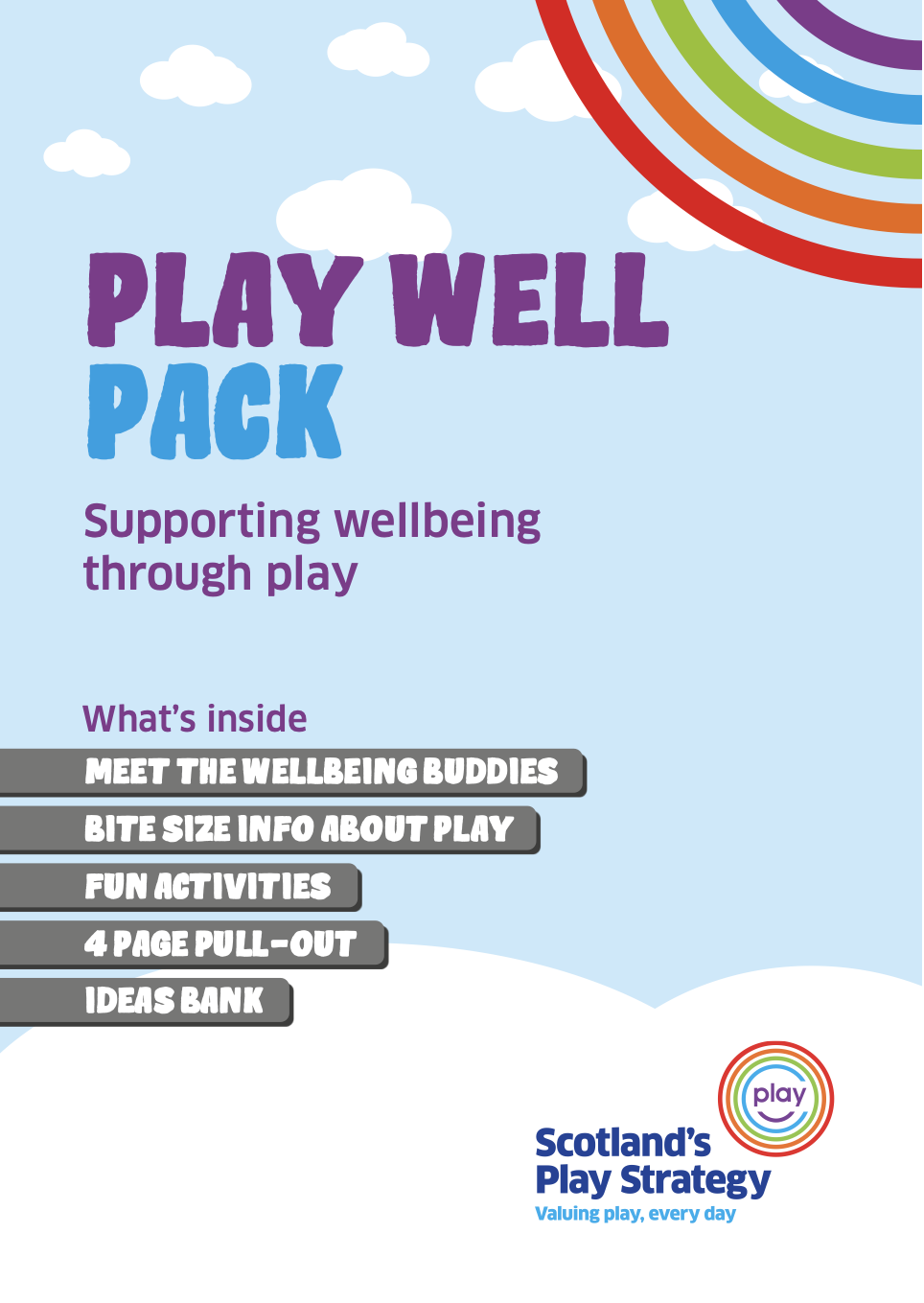 Play Scotland and Save the Children are delighted to launch the Play Well pack, which is packed full of suggestions, ideas and tips to support your child's play and learning at home.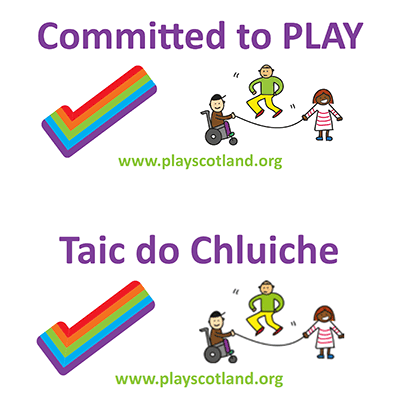 Scotland's Play Charter describes our collective commitment to play for all children and young people. Supporters of the Charter:
recognise that all children have the right to participate in play activities and experiences
value play as a life-enhancing daily experience for all our children
support children to have fun, creative, fulfilling and development rich play experiences throughout their childhoods
recognise that playing is an essential part of a happy childhood as well as being vital to children's wellbeing as individuals and members of society.