Play Types Toolkit:
bringing more play into the school day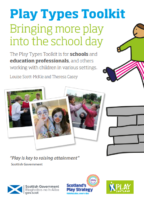 "Play is key to raising attainment"
Scottish Government
Play Scotland's Play Types Toolkit is for schools and education professionals, and others working with children in various settings.
Playing is an integral part of children's day in many educational and childcare settings. Children play before the bell goes in the morning; at playtime and lunchtime; and after school ends. Increasingly, playing is part of class time across Scotland too. Educators are getting better at recognising the interconnections between playing, learning, growing, developing, being healthy and being happy.

Who is the Toolkit for?
The Play Types Toolkit is intended for schools and education professionals though we are sure people in other settings will also find it useful.
The aim is to highlight the range of types of play children experience, their vital contribution to learning and development, and to make integration of play into the curriculum simpler.
What do we mean by play types?
Play types can simply be described as the different behaviors we can see when children are playing. You can view the different types of play types here.
This toolkit uses the play types from play theorist Bob Hughes' Play Types – Speculations and Possibilities in which he explains that 'each play type is both distinctly and subtly different from the others. It is useful to be able to recognise them since engaging in each one is a necessary conrollary for a child's healthy development.'

Play in Schools
Play opportunities are generally available to children in Scottish schools at playtimes and lunchtimes, but this may only total 60 minutes of the day and often less if you factor in eating, putting on coats and shoes and lining up.
As well as time for play, evidence shows us that the physical environment has a significant impact on children's play experiences. A stimulating and varied environment which makes playful resources available to children, supports more varied and complex play opportunities indoors and out.
This Toolkit will highlight ways to make the integration of play into the curriculum simpler.
How to use the Toolkit
The Toolkit aims to:
highlight the range of types of play children experience
highlight their vital contribution to learning and development
make integration of play into the curriculum simpler
We have grouped the different types of play together under useful learning headers: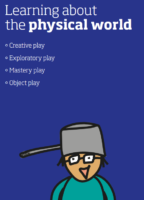 Learning about the Physical World
Creative play
Exploratory play
Mastery play
Object play
Learning about myself and how to be in the world
Communication play
Dramatic play and socio-dramatic play
Role play
Social play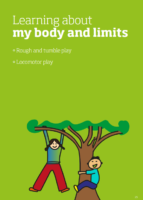 Learning about my body and limits
Rough and tumble play
Locomotor play
Learning about what is is to be human
Deep play
Fantasy play and imaginative play
Recapitulative play
Symbolic play
"One thing kids never lack is imagination to invent their own with the simplest of props. HSE has always encouraged children to learn through play, whether climbing trees, painting with their hands of throwing stones in a lake, we want children to enjoy life and all the experiences it brings"
Health & Safety Executive