We have added below some publications which you may find useful and of interest . These are listed in alphabetical order by title.
You may also be interested in reading many of the informative blogs we post here.

21st Century Boys, Sue Palmer
A major new insight into the difficulties of raising boys, and how parents can help their sons fulfil their potential.
What's happening to boys? At home, they sprawl before a flickering screen, lost in a solitary, sedentary fantasy world; at school, the choice of role seems limited to nerd or thug, bullied or bullying. By the time they reach their teens, the chances of depression, self-harm, drug or alcohol abuse grow each year. Raising boys has never been more difficult. You can order the book here

Breaktime and the School: Understanding and Changing Playground Behaviour
Breaktime in the school is a period when pupils learn social skills they will need in the world outside. But it can also be an occasion for aggression, harassment and bullying. Breaktime and the School gives an accessible account of the latest research into children's play and behaviour. The contributors show how an understanding of the area can inform practical action in designing an environment which encourages positive behaviour, in effective management and supervision, and in involving the children themselves in decision-making and conflict resolution. Staff in primary and secondary schools, school governors deciding on budget allocations, as well as local education authority advisers will find the book essential reading. Full details
Children's play and leisure: promoting a balanced approach
Health and safety laws and regulations are sometimes presented as a reason why certain play and leisure activities undertaken by children and young people should be discouraged. Such decisions are often based on misunderstandings about what the law requires. The HSE has worked with the Play Safety Forum to produce a joint high-level statement that gives clear messages tackling these misunderstandings. HSE fully endorses the principles in this Statement.
This statement makes clear that:
Play is important for children's well-being and development
When planning and providing play opportunities, the goal is not to eliminate risk, but to weigh up the risks and benefits
Those providing play opportunities should focus on controlling the real risks, while securing or increasing the benefits – not on the paperwork
Accidents and mistakes happen during play – but fear of litigation and prosecution has been blown out of proportion
Children's Play and Leisure: promoting a balanced approach

Cities Alive: Designing for Urban Childhoods. ARUP Report 2017
A child-friendly approach to urban planning is a vital part of creating inclusive cities that work better for everyone. Designing for urban childhoods inspires us to respond positively to the challenges, and sets out actions that can help take us to a more child-friendly future – moving well beyond simply providing playgrounds.
The amount of time children spend playing outdoors, their ability to get around independently, and their level of contact with nature are strong indicators of how a city is performing, not just for children but for all generations of city dwellers. If cities fail to address the needs of children, they risk economic and cultural impacts as families move away.
"This is a fantastic resource from ARUP. Cities Alive: Designing for urban childhoods, focuses on what a sustainable, successful, healthy city looks like – and guess what? It looks like a child-friendly city! To provide, protect and promote children's everyday freedoms we need to put in place infrastructures that enable and encourage children's use of the public realm – and guess what? Children's infrastructure can make a vital contribution to everyone's quality of life and collective wellbeing."
Marguerite Hunter Blair, CEO, Play Scotland
You can read and download the report here

Curriculum for Excellence through Outdoor Learning
Outdoor learning experiences are often remembered for a lifetime. Integrating learning and outdoor experiences, whether through play in the immediate grounds or adventures further afield, provides relevance and depth to the curriculum in ways that are difficult to achieve indoors.
Learning outdoors can be enjoyable, creative, challenging and adventurous and helps children and young people learn by experience and grow as confident and responsible citizens who value and appreciate the spectacular landscapes, natural heritage and culture of Scotland. Document – Curriculum for Excellence through Outdoor Learning

Delivering Active Play
This booklet has been developed for the play staff who will be involved in the delivery of Active Play.
Active Play is focused on developing children's physical literacy and fundamental movement skills (FMS) during fun play sessions. Making sessions fun and play focused is critical as research tells us that children must enjoy acquiring FMS to ensure that they develop a positive relationship with being active. Link to document


This guide from Play England is primarily for designers for children's play areas. This guide will also give communities and schools ideas on play spaces including risky play spaces; water play spaces etc.

Developing Play for the Under 3s: The Treasure Basket and Heuristic Play. Anita Hughes
The treasure basket and heuristic play approach is astoundingly simple; by offering natural and household objects to babies and toddlers you can make a profound impact on their learning capabilities, encouraging concentration, exploration and intellectual development. Based on a wealth of research into how babies learn, Developing Play for the Under 3s shows how using this approach can transform the learning abilities of babies and toddlers. Further details

Dirty Teaching: A Beginner's Guide to Learning Outdoors. Juliet Robertson
One of the keys to a happy and creative classroom is getting out of it and this book will give you the confidence to do just that. Drawing on academic research, Juliet explains why learning outdoors is so beneficial and provides plenty of tips and activities to help you integrate outdoor learning into your teaching practice, providing a broad range of engaging outdoor experiences for your students. There is no need for expensive tools or complicated technologies: all you need is your coat and a passion for learning – oh, and you'd better bring the kids too! Full details


Do the Right Thing. Published 2012
– a progress report on the Scottish Government's response to the 2008 concluding observations from the UN Committee on the Rights of the Child
This report is an update to 'Do the Right Thing' – the Scottish Government's 2009 response to the 2008 concluding observations from the UN Committee on the Rights of the Child. The Committee is next scheduled to consider our progress in 2014. Link to document
Early Learning and Childhood Report 2018
Report from SCMA on early learning and chilhood.

Early Years Framework part 1, Scottish Government
Early Years Framework part 2, Scottish Government

Evolutionary Playwork: Reflective Analytic Practice. Bob Hughes
Play is a crucial component in the development of all children. In this fully updated and revised edition of his classic playwork text, Bob Hughes explores the complexities of children's play, its meaning and purpose, and argues that adult-free play is essential for the psychological well-being of the child. The book is divided into fourteen chapters that together examine the fundamentals of evolutionary play. Full details

Forest School and outdoor learning in the early years. Sara Knight
Outdoor learning continues to play an essential role in early years education, and this new edition of a bestselling book explores how the Forest School approach can be easily and effectively incorporated into early years practice. Full details

Fou

ndations of Playwork, Fraser Brown and Chris Taylor
Play impacts on all aspects of human behaviour and development, including the social, physical, cognitive, creative, emotional and spiritual worlds. The profession of playwork endeavours to provide enriched play environments with a view to enabling children achieve their full potential.
This book provides a holistic overview of contemporary play and playwork. Straightforward and accessible, it covers topics such as playwork identity; play environments; the role of the playworker; values and ethics; play and playwork theory; and at the heart of the book, a special chapter located at the cutting-edge of 21st century play theory. Full details

United Nations, General comment No. 17 (2013) The right of the child to rest, leisure, play, recreational activities, cultural life and the arts (Article 31 UNCRC) published February 2013.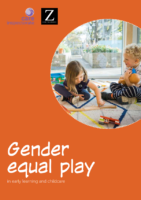 Gender Equal Play
Children's experience of childhood and play is becoming more gendered and polarised between girls and boys, with products such as toys, books, online resources and clothes increasingly being produced and marketed along gender lines. In the early years, children begin to learn about gender roles and expectations, and will pick up messages from their surrounding environment about what is perceived as 'normal' for boys and girls. They are influenced by their environment and the adults around them. They learn from everything they see, hear and do. This shapes how they see themselves and others as they grow up and supports them to follow their own wishes and expressions of identity.
It is never too early to question what is seen as 'normal' or what is traditionally expected of boys and girls in our society. In fact, doing so from a very young age helps to protect children from the negative consequences of inequality and discrimination as they grow into adults.
This resource has been developed for early years educators and it will also be helpful for parents, and anyone working with young children. It explains the importance of challenging gender stereotyping in the early years and provides ideas and examples of existing practice from across Scotland. The document has been produced by the Care Inspectorate, in partnership with Zero Tolerance, Education Scotland, SCMA, NHS Glasgow, Glasgow City Council and Play Scotland.
You can downloads the report below:
Gender equal play in ELC

Gender, Sex and Children's Play. Jacky Kilvington and Ali Wood
Does gender, sex and sexuality influence children's play, and their learning? Can/should professionals try to influence children's gender and sexual concepts? Can/should professionals try to prevent gender stereotyping? These and other questions are explored in a lively and thought-provoking text that looks at why and how children inhabit or develop their gender and sexuality. Full details

Getting it Right for Play, Play Scotland
Play Scotland developed the Getting it Right for Play Toolkit and supporting documents to help local authorities respond to Scottish Government policy and guidance on play, and deliver increased play and physical activity for children in Scotland (Early Years Framework 2008/2010). The purpose of the documents are to inform local authorities of the strong evidence base showing the benefits of play to children and communities, and the wide range of policy and guidance already in place from the Scottish Government, which is not widely known nor acted upon across all departments in local authorities. Full details and downloadable pdfs can be found here.

Loose Parts: Inspiring Play in Young Children. Lisa Daly, Miriam Beloglovsky, Jenna Daly
Loose parts are natural or synthetic found, bought, or upcycled materials-acorns, hardware, stones, aluminium foil, fabric scraps, for example-that children can move, manipulate, control, and change within their play. Loose parts are alluring and beautiful. They capture children's curiosity, give free reign to their imagination, and encourage creativity. With more than 550 color photographs of many kinds of loose parts in real early childhood settings, classroom stories, and a dynamic overview, this book provides inspiration and information about the ways loose parts support open-ended learning, enhance play, and empower children. With loose parts, the possibilities are endless. Full details

Lighting the Fire
Hands-on investigation, play and outdoor learning in primary education. Document – Lighting the Fire

Managing Risk in Play Provision: Implementation guide
The Play Safety Forum has produced Managing Risk in Play Provision to help strike a balance between the risks and the benefits of offering children challenging play opportunities.
This implementation guide shows how play providers can replace current risk assessment practice with an approach that fully takes into account the benefits to children and young people of challenging play experiences. The document's overall approach will be useful for those who manage spaces and settings in which children play, and for those involved in designing and maintaining them. Document – Managing Risk in Play Provision implementation guide 2nd edition
Further details and copies of Risk Benefit Assessment Forms can be found here.

Messy Maths: A playful, outdoor approach for early years. Juliet Robertson
In Messy Maths: A Playful, Outdoor Approach for Early Years, Juliet Robertson offers a rich resource of ideas that will inspire you to tap into the endless supply of patterns, textures, colours and quantities of the outdoors and deepen children's understanding of maths through hands-on experience. Juliet believes being outside makes maths real. In the classroom environment, maths can seem disconnected from everyday reality – but real maths is really messy. Lots of outdoor play and engaging activity along the way is a must, as being outside enables connections to be made between the hands, heart and head, and lays the foundations for more complex work as children grow, develop and learn. Full details

My World Outdoors, Care Inspectorate
There is a long historical tradition of outdoor experiences for children in Scotland, marked by innovation stretching back over two hundred years. There is significant evidence that playing outdoors is more than just fun: it can contribute positively to child development, child health, and early learning. That is why, in this resource, we have grouped together examples of effective practice around the recognised wellbeing indicators, where children are safe, healthy, achieving, nurtured, active, respected, responsible, and included. With creativity and effective leadership, all types of care services in every part of Scotland can use outdoor play to support each of these wellbeing indicators for children. Link to document

Nature Play. Simple and fun ideas for all
This practical guide on nature play offers fun, simple and cost effective examples of play ideas from easily sourced materials. It will help Forestry Commission staff and other landowners or managers wanting to improve informal play provision for children. Its presentation style, through photographs, also illustrates clearly to practitioners and partner organisations what is meant by nature play. Link to document

No Fear: Growing Up in a Risk-Averse Society. Tim Gill
No Fear: Growing up in a risk averse society argues that childhood is being undermined by the growth of risk aversion. This restricts children's play, limits their freedom of movement, corrodes their relationships with adults and constrains their exploration of physical, social and virtual worlds.
Focusing on the crucial years of childhood between the ages of 5 and 11, No Fear examines some of the key issues with regard to children's safety: playground design and legislation, antisocial behaviour, bullying, child protection, the fear of strangers and online risks. It offers insights into the roles of parents, teachers, carers, the media, safety agencies and the Government and shows how risk averse behaviour ironically can damage and endanger children's lives. In conclusion, No Fear advocates a philosophy of resilience that strikes a better balance between protecting children from genuine threats and giving them rich, challenging opportunities through which to learn and grow. Full details

No Knives, Better Lives
resource for use with primary school aged children on knife crime prevention

Nothing Ventured … Balancing risks and benefits in the outdoors
Children and young people have a thirst for adventure and challenge. This is evident from their earliest efforts to crawl and walk, and can be seen throughout childhood. What is more, the majority of children grow up to be competent, confident people who lead healthy, fulfilled lives.
You can download here.

Our Creative Journey, Care Inspectorate
In this resource featuring good and innovative practice examples, the Care Inspectorate has shared and celebrated some of the wonderful experiences we are seeing and hearing about when we visit services all over the country. These examples include art, drama, pretend play, music and song, model making, loose-parts play, storytelling and dance. This resource is intended to reflect and encourage the exciting blossoming of expressive arts that we are seeing across services for children. Link to document

Out to Play – Practical guidance for creating outdoor play experiences in early learning and childcare
Practical guidance for creating outdoor play experiences in early learning and childcare.
Pdf – Out to Play_practical guidance for creating outdoor play experiences in early learning and childcare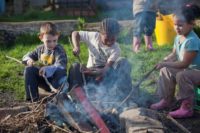 Outdoor Cooking and Eating
We have added web links below for information on safe outdoor cooking, fire building and safe foraging.
You may also be interested in guides for cooking with children on website Food A fact of Life

Perspectives on Play: Learning for Life, Avril Brock
Perspectives on Play examines current research and theoretical knowledge with regards to play as a medium of learning. It examines the theory of play, relating cutting-edge research to case studies of practice, taken from a broad range of multi-disciplinary perspectives. Full details here

Play and Playwork: 101 Stories of Children Playing: 101 stories of children playing. Fraser Brown
Children like to play. They get all sorts of benefits from playing. They get the most benefit from play when they are in control of what they are doing. Yet there are lots of circumstances today that mean children are not able to control their own play and that's where playwork comes in, where the role of the playworker is to create environments that enable children to take control of their playing. Full details

Playing Outdoors: Spaces and Places, Risk and Challenge: Spaces and Places, Risks and Challenge. Helen Tovey
What do children learn through playing outdoors? What makes an effective and challenging play space? What is a safe environment and can children be too safe? How can adults best support challenging play outdoors? Young children seek adventure and challenge in their play outdoors. They look for places they can explore and spaces they can transform. However, provision for exciting and challenging play outdoors is often restricted because of an over-emphasis on safety, and also because the value of play outdoors is not well understood. Full details

Play Strategy documents
The Scottish Government launched the national Play Strategy in 2013, you can find all information and related documents on our Play Strategy page here

Play Types: Speculations and Possibilities, Bob Hughes

Playwork: Theory and Practice. Fraser Brown
Children learn and develop through their play. In today's world the opportunities for that to happen are increasingly restricted. The profession of playwork seeks to reintroduce such opportunities, and so enable children to achieve their full potential.
This book brings together many leading names in the playwork field, to produce a text that has something for everyone. The in-depth exploration of a range of theoretical perspectives will appeal to both playwork students and practising playworkers. Full details


Practice-based research in children's play
Wendy Russell, Stuart Lester and Hilary Smith
This unique collection puts forward a range of perspectives on children's play and adults' relationships with it. Based on 12 research projects carried out by experienced practitioners in the play sector in the UK and USA, it is essential reading for anyone studying or working with children at play. Full details here

Reclaiming Childhood: Freedom and Play in an Age of Fear, Helen Guldberg
A book that exposes the stark consequences on child development of both our low expectations of fellow human beings and our safety-obsessed culture.
Children are cooped up, passive, apathetic and corrupted by commerce' or so we are told. Reclaiming Childhood confronts the dangerous myths spun about modern childhood. Yes, children today are losing out on many experiences past generations took for granted, but their lives have improved in so many other ways. This book exposes the stark consequences on child development of both our low expectations of fellow human beings and our safety-obsessed culture. Rather than pointing the finger at soft 'junk' targets and labelling children as fragile and easily damaged, Helene Guldberg argues that we need to identify what the real problems are – and how much they matter. Full details


Rethinking Children's Play, Fraser Brown and Michael Patte
Rethinking Children's Play examines attitudes towards, and experiences of, children's play. Fraser Brown and Michael Patte draw on a wide range of thought, research and practice from different fields and countries to debate, challenge and re-appraise long held beliefs, attitudes and ways of working and living with children in the play environment. Children need to play and the benefits of play are many and varied, but they are too often underestimated by parents, educators, politicians and society in general. Full details

Risk and Adventure in Early Years Outdoor Play: Learning from Forest Schools, Sara Knight
Do you want to create exciting outdoor experiences for children? Are you looking for guidance on how to incorporate the wilder and riskier elements of outdoor play into your planning?
This book will give you the confidence to offer the children in your setting adventurous and challenging outdoor activities, as well as ways to utilise natural resources to their best advantage. There is clear, practical advice on what you need to do, which is underpinned by the theory that supports the benefits of this approach. Examples from settings are included, to illustrate best practice and to show how things can be achieved. Details here
RSPB Learning Outdoors
RSPB Scotland believes that connecting with nature should be part of every child's life. Research has shown that only 27 per cent of Scottish children have a good connection to nature. Full details can be found here.

State of Children's Rights report 2017
Together's 2017 State of Children's Rights in Scotland report sets out promising rights-based practice taken by Scotland's public bodies.
The report outlines good practice through a wide range of case studies across the areas of the UN Convention on the Rights of the Child (UNCRC). The report is a tool for public bodies to take forward children's rights.
You can read and download the report here

The Excellence of Play. Janet Moyles
Play as a powerful learning and teaching experience remains key to effective early childhood education. Retaining its popular approach and style, this new edition reflects the contemporary context of early childhood education and care as well emerging research on young children's development.
The emphasis remains firmly on demonstrating the excellence of play and its contribution to children's overall learning and development in the early years, and the role of adults in promoting inspirational playful pedagogies.It offers new coverage on topics such as brain development, gender, babies' play, cultural diversity and inclusion, children as researchers, new technologies, outdoor play and international dimensions. Full details


The Good School Playground, Learning through Landscapes
A growing number of schools have recognised the potential of their grounds and are now providing outdoor spaces and experiences that support children's learning and wellbeing. However, too many children are still growing up in dull and uninspiring playgrounds and missing out on these life-enhancing experiences.
The Scottish School Estate Strategy highlights a need for improved design and increased investment, with an ambition that designers make "the best use of school grounds and the outdoor spaces as an integral part of the learning environment ensuring that landscape design is at a par with building design."
This guide has been written to help make that ambition a reality. It explores the links between school grounds and children's health, wellbeing and learning and offers practical advice on how to develop the best school playgrounds. Link to document

The Idle Parent: Why Less Means More When Raising Kids. Tom Hodgkinson
The Idle Parent is Tom Hodgkinson's radical parenting remedy against stifled, mollycoddled children. Modern life is wrecking childhood. Why can't we just leave our kids alone? If you've ever wondered why so many of today's children are unhappy, spoilt, stressed and selfish, then the answers and the remedy are to be found in The Idle Parent. Full details

The Importance of Play from Dr David Whitebread, University of Cambridge.


The Play Ranger Toolkit
This Play Ranger Toolkit has been developed by, and using the experience and learning of, the Play Ranger charities supported by Go2Play – focused on growing play opportunities for children and harnessing the expertise of the sector. The toolkit is designed to promote this model of helping children to access free play, but more importantly to help anyone thinking of setting up Play Ranger to do so. Link – Play Ranger Toolkit

The Play Return: A review of the wider impact of play initiatives, Tim Gill
This report presents evidence to build the case for improving the play opportunities of children and young people. Its focus is on children of school age, and on free play that takes place out of doors. It looks at quantitative evidence of the wider outcomes and impact of play interventions and initiatives. The report looks at four types of intervention that each involve setting aside time and space for children to play:
improving opportunities for free play in school break times
unstaffed public play facilities
supervised out-of-school play provision
street play initiatives.
You can find full details and downloadable pdf here.
The playtime revolution
Playtime Revolution a free training resource for schools from GFL who want to improve their pupils experiences in the school playground.
Full details can be found on their website here.

The SAGE Handbook of Outdoor Play and Learning
There has been a growing academic interest in the role of outdoor spaces for play in a child's development. This text represents a coordinated and comprehensive volume of international research on this subject edited by members of the well-established European Early Childhood Education Research Association Outdoor Play and Learning SIG (OPAL). Chapters written by authors from Europe, North and South America, Australasia and Asia Pacific countries are organised into six sections:
Theoretical Frameworks and Conceptual Approaches for Understanding Outdoor Play & LearningCritical Reflections on Policy and Regulation in Outdoor Play & LearningChildren's Engagement with Nature, Sustainability and Children's GeographiesDiverse Contexts and Inclusion in Children's Outdoor Play EnvironmentsMethodologies for Researching Outdoor Play and LearningLinks Between Research and Practice. Full details


The State of the World's Children 2017
Children in a Digital World, UNICEF Report
Do you remember the first time you went online?
Chances are you knew life before the internet. But for children growing up online, life is unimaginable without it.
Digital technology has transformed the world we live in – disrupting entire industries and changing the social landscape.
Childhood is no exception. One in three internet users worldwide is a child, and young people are now the most connected of all age groups.
From photos posted online to medical records stored in the cloud, many children have a digital footprint before they can even walk or talk.
Digital technology can be a game changer for disadvantaged children, offering them new opportunities to learn, socialize and make their voices heard – or it can be yet another dividing line. Millions of children are left out of an increasingly connected world.
You can read and down the report here.


The UN Convention on the Rights of the Child: A Guide for Children & Young People
The UNCRC Booklet is aimed at children and young people under the age of eighteen and provides details of the rights they are entitled to under the United Nations Convention on the Rights of the Child (UNCRC). The booklet gives details of each Article of the UNCRC and also provides key contact details for relevant organisations. Link to document

The Value of Play, Perry Else
This is an accessible coursebook for those specifically engaged in playwork and those on Childhood Studies programmes. Most recognize that play is good for children yet we are confused by the dangers we see in the wider environment and so often restrict children's natural opportunities to play. As a result children's play has gained increased awareness amongst a variety of professions working with children, many of whom have different approaches to play and children. Full details
This place is like a building site!
Report on the introduction of loose materials to three primary schools in North Lanarkshire, North Lanarkshire Council.
This is a report of the work commissioned by North Lanarkshire Council's Learning and Leisure Services to support and develop ongoing work in three of its primary schools as part of the Natural Play Project. It is accompanied by a short video of the same name and their main purpose is both to inspire other schools to embark on such work and to give them the practical tools and information to do so. Full details here

Toxic Childhood: How The Modern World Is Damaging Our Children And What We Can Do About It. Sue Palmer
One in six children in the developed world is diagnosed as having 'developmental or behavioural problems' – this book explains why and shows what can be done about it.
Children throughout the developed world are suffering: instances of obesity, dyslexia, ADHD, bad behaviour and so on are all on the rise. And it's not simply that our willingness to diagnose has increased; there are very real and growing problems. Full details

UK Poverty 2017
New report from the Joseph Rowntree Foundation. This report looks at how figures have changed over the past two decades.
UK Poverty 2017 highlights that overall, 14 million people live in poverty in the UK – over one in five of the population. This is made up of eight million working-age adults, four million children and 1.9 million pensioners. 8 million live in families where at least one person is in work.
You can read and download the report here
Warburtons Teaching Resources
Here you will find lots of great resources to help you teach primary school children about healthy eating and cooking. The free, downloadable materials are designed to support you in delivering lessons about making bread or sandwiches and include:
teachers' guides
worksheets
PowerPoint presentations
videos
posters
Link to web here.

We don't play with guns here: War, Weapon and Superhero Play in the Early Years
War, weapon and superhero play has been banned in many early childhood settings for over 30 years. This book explores the development and application of a zero tolerance approach through the eyes of children and practitioners.
The author challenges the key rationale for linking aggressive play themes to violent behaviour. She examines play where children are allowed to construct weapons and enact goodies/baddies and superhero scenarios with sensitive adult guidance, and explores the generally positive experiences of children and practitioners. Rather than reading this form of play as the beginning of the slippery slope towards anti-social behaviour, readers are invited to view it as an entry point to imaginative play and social development. Full details