Messy play allows children to create, build, develop their imaginations, explore textures, use their senses and it's fun!!
Disclaimer: Play Scotland would ask that appropriate supervision is in place for any young children using our messy play recipes and that they avoid consumption.
Messy Play is a great way to get all covered in paint and stuff while playing. We have 5 booklets available which are full of ideas.
We would love to see pictures of your creations! Send these to info@playscotland.org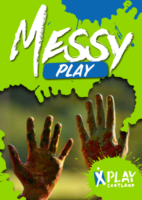 Messy Play Activities
Oatmeal Play Dough
You will need: 1 cup of Plain Flour; 2 cup Oatmeal; 1 cup water.
What to do: This recipe requires no cooking, simply place it all the ingredients in the bowl and knead until smooth.
Leaf Printing
You will need: leaves in different shapes and sizes with stems on; water based paints; small paintbrush; old toothbrush; plain paper; newspaper.
What to do: hold the leaf by stem and paint on side. Place the painted leaf face down on the plain paper. Place newspaper on top and rub gently with the toothbrush. Lift newspaper and leaf up to reveal your print.
Star Gazing
You will need: A cloud free night; constellation book or chart which can be
downloaded here ; a collection of pebbles, buttons, beads, pulses etc.
What to do: copy the constellation by using your peebles etc, you can use glue to stick the peebles etc to paper.
Make a Shaker
You will need: 1 empty clean yoghurt pot; 1 piece of paper; some rice or dried beans; a rubber band; pens and stickers to decorate your shaker.
What to to: cut a circle of paper large enough to fold over the sides of the pot; put some of the rice or dried beans into the pot (not too much or it will not make much noise); put the paper over the top of the pot and secure with the band; decorate the lid of the shaker.
Paper Crown
You will need: stiff card; sticky tape; pens or crayons; glue, glitter, sequins, bits of scap material
What to do: measure a strip of card to fit round your child's head; fasten the card with sticky tape: cut a zig zag pattern along the top of the crown; your child can now decorate.
Halloween Messy Play
Lots of messy play ideas for Halloween on Play Scotland pinterest page.
Fizzy Cloud Dough
You will need:
1 cup flour
1 cup baking soda
¼ cup vegetable oil
Vinegar
Droppers
Combine the first three ingredients (you can mix color into the oil). Use droppers to drop vinegar on to the dough. Play with dough and watch it fizz.