Information Leaflets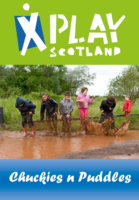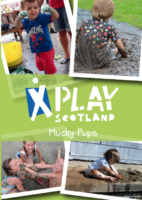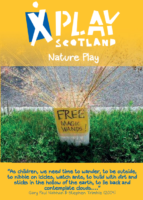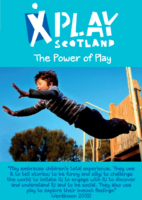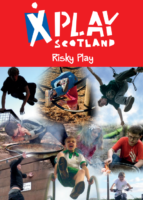 Child's Play – Top Ten Tips – pdf
Messy Play Booklets




Annual Reviews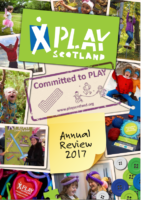 Play Scotland Annual Review 2017 – downloadable pdf
Past Annual Reviews
The Play Map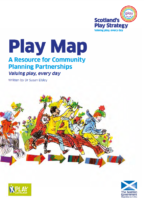 The Play Map has been developed to support Community Planning Partnerships (CPPs) build play into their strategic plans. It will help CPPs deliver on their objectives to support the wellbeing of children, young people and their families across the communities.
The Play Map aims to support CPPs to:
Commit to principles which support the child's right to play
Provide leadership through developing strategic priorities and appointing Play Champions
Listen to children, young people, families and communities so their views inform CPPs
Map existing provision and explore gaps in current services and opportunities
Consider effective approaches to developing plan in communities and share effective practice
Review play's contribution to CPPs locality plans.
Play Scotland Research
Play Scotland aims to undertake quality research to provide an evidence base for the other areas of Play Scotland's work and to inform stakeholders.
Transformation of Play for Playday 2017
Background
Over 2000 adults in the UK shared their experiences of play in 1987 (or when they grew up if they were under 30 years old) and 2017.
The four national play organisations in the UK invited Professor John McKendrick of Glasgow Caledonian University to administer an online survey on their behalf based assisted by Sharon McCluskie, Play Scotland
The research was coincided with 30 years of Playday in the UK
The research provides a unique insight into how play has changed through time from the perspective of those who have lived through these changes.
Full details can be found here
Scottish Home Play Survey 2016
Background and Objectives
Play Scotland wanted to discover more about play in and around the home, particularly looking at attitudes, behaviours and concerns of parents and the play behaviours of their children, 8-12 year old.

The scope of this research covers:
Play behaviour
• Amount of time spent playing
• Variety and duration of play activities
• Barriers to play

Interaction through play
• Identifcation of child's play partners
• Activities played together between parent and child
• Time available to play together with child
• Satisfaction with time available to play together with child
• Usual behaviour for initiating play together and choosing play activity
• Sourcing new ideas for playing together
• Barriers to playing together

Attitudes and concerns
• Parental attitudes towards play and its value
• Parental concerns about outside and online play

Mobile apps
• Use of mobile apps
• Commonly used apps
• Source of permission to download mobile apps
• Interest in Play Scotland's app
Scottish Home Play Survey – June 2016 – Top Line Summary
Scottish Home Play Report Full
Home Play Survey Poster Final 141016
What do we know about Play 2012 – Growing in Scotland and Play Scotland Research
What do we know about play GUS_PlayBriefing
Play in Staffed Provision: The Scottish Experience 2011
In 2011 Play Scotland surveyed a wide range of staff to find out about their experience of facilitating free play and outdoor play. Their responses demonstrate a firm commitment to children's play across Scotland from a wide variety of providers.
Play in Staffed Provision: The Scottish Experience
Acorns and Conkers 2008
Funded by a grant from the Big Lottery's Investing in Ideas Programme, Acorns and Conkers provides an evidence base of the concerns and creative practice developed by the Play Sector to compensate for the inadequate support the child's right to play in Scotland.
This was published in November 2008. ISBN:978-0-9556647-2-4
Scottish Play Commission 2008
Play Scotland received lottery funding in October 2007 to establish the Scottish Play Commission. The Scottish Play Commission, chaired by the author Sue Palmer, examined the 'state of play' in Scotland and heard evidence from leading academics and play specialists from
around the world.

The structure of the Commission was designed to allow for maximum participation from the children's sector, parents, planners and service providers in local authorities, health, the private sector and voluntary sector. A number of key events were held in Edinburgh, Inverness and
Glasgow with smaller workshops and focus groups held locally throughout Scotland. The 'Developing Play in Scotland' survey (Play Scotland 2008) also informed the findings of The Scottish Play Commission.

An online discussion forum was set up for 6 months, accessed through the Play Scotland website and linked to the UK World Café discussion forum on the Future of Playwork.

The findings led the Scottish Play Commission to recommend to the Scottish Government that they..

1. Develop a National Play Strategy, 0-18 years, in consultation with children and young people, which will inform local play strategies and address the themes identified in this report

2. Create a national Play indicator, with minimum actions and standards, national monitoring and resources to support its implementation across all local authorities

3. Promote the critical role of Play in child development and raise public awareness of the value of Play

4. Build the capacity of communities to support a wide range of Play opportunities and monitor the benefits

5. Support the Playwork Profession to develop as a valued Workforce
Findings of the Scottish Play Commission Exec Sum
Findings of the Scottish Play Commission Full Report
Developing Play in Scotland
Developing Play in Scotland Research – pdf
Research in conjunction with the Scottish Play Commission.
Local Authority Play Provision in Scotland 2006
Play Scotland was commissioned to gather baseline information in play in a local authority context. A two page questionnaire (which can be found at Appendix 1 in the research document) was distributed to all local authorities in Scotland in 2006 to collect key information on play policy, funding and training. 27 of the 32 local authorities in Scotland responded before the survey end date.
We were keen to determine the level of support, policy and planning for play within the local authorities in the absence of a statutory duty for play.
This was published in September 2007. ISBN: 978-0-9556647-0-0
School Ground Research
Play Scotland in partnership with Grounds for Learning and sportscotland have undertaken a research project about the use of school grounds for play, learning and sport. The project has produced a literature review and the first national survey of state sector school grounds in Scotland. This project has been funded by sportscotland.