About Outdoor Classroom Day
When teachers take learning outdoors they report some powerful impacts: Children's behaviour improves, whole classes are excited to learn, and individuals who feel inhibited by the curriculum often thrive in an outdoor environment. When adults think back to their own happiest memories of childhood, they frequently recall the joy of playing outdoors. Play is not only central to children's enjoyment of childhood, but teaches critical life skills such as problem solving, teamwork and creativity.
Sign up here today to join in this campaign.
Why Playtime Matters Report. May 2019
This report brings together both previous research and new findings that make the case for playtimes being a key part of the school day. It shows that outdoor play at school helps develop healthy, curious and active kids who are better connected to their environment. It brings together evidence that shows that time outdoors is particularly important for
children's mental health – reducing stress, giving a sense of calm and simply making them happier.
Playtime length at primary schools worldwide varies from just 15 minutes to over two hours, in school days that vary from 3.5 hours to over ten. The types of playgrounds children have varied worldwide, from hard courts to landscaped parks. Teachers work in different atmospheres when it comes to playtime, with most thankfully in schools where colleagues value playtime, but still far too many are in schools where their peers think it is a waste of time.
A third (32%) of the schools that responded to our survey say they have now increased playtime since getting involved in the Outdoor Classroom Day campaign. We hope this report will give more schools and those that manage schools the evidence they need to make playtime a key part of the school day.
Download the report below:
Playtime Matters Report. Outdoor Classroom Day. May 2019
From muddy hands and dirty faces….to higher grades and happy places

Why schools need to champion outdoor play (and learning) for the sake of the planet, and health of our children and because its's plain common sense.
PowerPoint presentation from Cath Prisk from the Muddy Hands report can be found here
Motion in Scottish Parliament
Play Scotland were delighted to see the undernoted Motion which was placed by our Playful Play Champion Ruth Maguire MSP on 18 October which received cross-party support was discussed in Chambers of the Scottish Parliament on 1 November 2018.
Motion S5M-14384: Ruth Maguire, Scottish National Party
Outdoor Classroom Day
That the Parliament notes that Outdoor Classroom Day takes place on 1 November 2018; understands that this is a global campaign to celebrate and inspire outdoor learning and play believes that thousands of schools, including many across Scotland, will be participating by taking lessons outdoors and prioritising playtime; considers that outdoor learning improves children's health, engages them with learning and leads them to develop better social skills, enhanced problem solving and team working skills; commends the work of organisers to promote participation by schools in Outdoor Classroom Day, which takes place on two dates each year to fit with term times, and notes the hope that such events will encourage more time learning outside every day.
Supported by: Mark Ruskell, Fulton MacGregor, David Torrance, Stuart McMillan, Colin Beattie, Bill Kidd, John Finnie, Stewart Stevenson, Shona Robison, Kenneth Gibson, Bob Doris, Emma Harper, Neil Findlay, Jenny Gilruth, Angus MacDonald, Rona Mackay, Richard Lyle, John Mason, Clare Adamson, Gordon MacDonald, Angela Constance, Alexander Burnett, Gail Ross, Gillian Martin, Alex Cole-Hamilton, Willie Rennie, Tom Arthur
Debate of Motion S5M-14384 Outdoor Classroom Day
Transcript of Debate on Motion S5M-14384 Outdoor Classroom Day – pdf link
Play Scotland Members Briefing on Outdoor Classroom Day – pdf link
"25% of all the schools across Scotland are signed up to say THEY
believe in outdoor learning and play in 2018"
Play Scotland Members Briefing on Outdoor Classroom Day – pdf link
Extract:
Why does outdoor play matter so much in Scotland?
Children in Scotland are at very serious risk of being overweight, of being inactive, and of experiencing poor mental health outcomes.
Obesity
14% children aged 2 to 15 are at risk of obesity, with a further 15% at risk of being overweight.[1]
Mental health
10% of 5-16 year-olds in the UK have a clinically diagnosable mental health problem.[2]

26% of S4 pupils have signs of emotional and/or behavioural problems.
The total number of CAMHS referrals in Scotland increased by 13.5% between 2013 and 2016.[3]
The long-term economic costs of poor mental health are huge and early intervention is key.
Sedentary behaviour is amongst the biggest killer here in Scotland
Among 11-15 year-olds, only 21% of boys and 15% of girls got at least 60 minutes of daily physical activity of at least moderate intensity, the Scottish, UK, and international recommendation.[4]
This puts Scotland at the bottom of a ranked table of 40 other nations compared by The Global Matrix 3.0 On Physical Activity For Children And Youth.
You can download the full briefing paper below:
Play Scotland Members Briefing on Outdoor Classroom Day – pdf link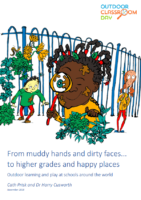 Research – From Muddy hands and dirty faces … to higher grades and happy places

The Muddy Hands report published November 2018, sets a snapshot survey of the schools that took part in Outdoor Classroom Day 2017.
You can download the research report below:
Muddy Hands Global Report November 2018 – pdf link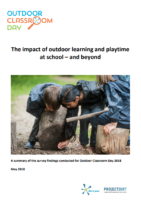 Project Dirt – The impact of outdoor learning and playtime at school – and beyond
Project Dirt asked teachers who have taken part in Outdoor Classroom Day about the impact of taking children outdoors.
The results are encouraging as they show that there is a fast-growing number of schools worldwide that recognise how important outdoor learning and play is for children, teachers and whole schools, as well as parents and the wider community.
Key findings include:
68% of teachers want more time for children to play outdoors.
87% of teachers want more time to take lessons outside.
One fifth (22%) of teachers told us that they have increased playtime since taking part in the campaign, and two fifths (44%) have increased time for outdoor lessons.
97% of teachers worldwide believe that outdoor playtime throughout the school day is critical for children to reach their full potential.
65% of primary schools globally get less than one hour of playtime (recess) a day and 12% get less than 30 minutes.
88% of teachers globally said that children are happier after playing outdoors, and 89% said the same when they learn outdoors.
79% of teachers globally said that the weather stops children playing outdoors.
1 in 7 of respondents worldwide said that nothing prevents children from playing outdoors.
Project-Dirt-Survey-Outdoor-Play-and-Learning-at-School-2018 – pdf link
Lesson Ideas
For ideas on how to teach your lessons outdoors click here.
Mission Explore
Your Mission, should you choose to accept it, is to… Explore Outside the Classroom!
But BEWARE!!! This book will change FOREVER the way you see the outdoor world…
A treasure trove of inspirations that can take one lesson or inspire a much longer project, all that your class needs is this booklet, a pencil and some imagination.
Mission Explore – Outdoor Classroom Day – pdf link
"Children need room to learn … four walls don't help … they feel trapped. As soon as we take our learning outside it is less stress for them and they actually focus more!"
Teacher
"We usually ignore wet playtime and put our waterproofs on and get outside. I give up my break time to supervise this. Midges can be pretty brutal at times, however we still go outside"
Teacher
"Happy hearts and happy faces, happy play in grassy places –
That was how, in ancient ages, children grew to kings and sages"
R L Stevenson