We want all of Scotland's children and young people to have the opportunity to experience the joys of movement, and the social, emotional and physical wellbeing that comes through play."

A More Active Scotland, Scottish Government
Play is one of the most powerful and important elements in children's enjoyment of their childhood, well-being, health and development. It is a natural and instinctive behaviour which should be encouraged and supported throughout childhood.
Generally, children's well-being is seen as a combination of factors including their physical and mental health, their relationships, their feelings and their comfort within the environments they inhabit. Evidence suggests that play cuts across and influences many of these factors, developing "protective systems" that enhance children's own feelings of well-being.
Susan Isaacs, the educational psychologist and psychoanalyst who founded the Department of Child Development at the Institute of Education in London in the early 1930s, saw play as a way for children to express their personalities with both healing and cognitive potential. She saw play as the `child's work', essential to growth and development, and considered that active play was a sign of good mental health. For Isaacs, developing a child's independence and learning, was best achieved through play, and the role of adults and early educators was to guide children's play.
When children and young people participate in active play this can boost physical activity in many children and young people, especially if they live a sedentary lifestyle. Being active helps them develop fundamental movement skills such as coordination and balance, can assist in their mental health and burn off calories.
This is a picture of an active brain after 20 minutes of walking, imagine how active this will look after 20 minutes of active play!
When we choose a life of physical inactivity and avoid using our brainpower, we are failing our neurons. In turn, choosing to stay both physically active through enjoyable exercise and challenging our minds can keep our brains sharp, proficient and thriving (from SmartFit).
Active play can also helps children physically, mentally and emotionally and many teachers have said that children who walk to school learn better and are more alert when they arrive at school.
Many schools in Scotland now take part in the Daily Mile, which encourages children to run a mile everyday.
Another plus side that playing is free!
A Movement for Movement – Screen time, physical activity and sleep: a new integrated approach for children by Dr Aric Sigman
By the time they finish primary school many children have the highest levels of body fat on record. Rates of child Type 2 diabetes and mental illness are also the highest in our history. Children now sleep less and have the highest level of admissions to NHS hospitals for sleep disorders. At the same time British children are spending the highest ever amount of their discretionary time in front of screens, and young children have never moved so little.
Full here Movement for Movement report from Dr Aric Sigman
Play Builds Children
– Children's Play Policy Forum Statement
February 2019
The Children's Play Policy Forum has issued a policy statement identifying a crisis in childhood and calling for more children's play opportunities.
CEO of Play Scotland Marguerite Hunter Blair welcomes the policy focus on children's mental health and wellbeing in Scotland and said: "Access to play is a social justice issue that has to be addressed, particularly for the children whose right to play is most vulnerable. We know that play is a life-enhancing experience and that play builds children's capacity to thrive despite adversity and stress in their lives. More time, space and local planning is needed so that children from all social, cultural and economic backgrounds can play, everyday."
There are huge benefits to be gained when sufficient time and space is available for children to play every day. These benefits contribute to the prevention of the prime issues of health, mental health, obesity and school exclusion – key issues in need of urgent resolution. Play builds happy, healthy children.
Download the statement: Play Builds Children CPPF Statement 2019
Download the evidence base:
evidence-list-play-builds-children-children_s-play-policy-forum-position-statement
Getting it Right for Play – downloadable poster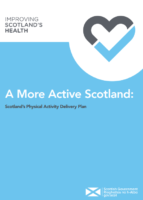 A More Active Scotland
Play Scotland are delighted to see that the importance of play and active play has been included in this Scottish Government publication.
The Scottish Government aims to cut physical inactivity in adults and teenagers by 15% by 2030.
Included in its Active Scotland Delivery Plan are actions such as: development of community sports hubs in the most deprived areas; more opportunities for pupils to participate in sport before, during and after school; support and development for helping people move from school sport to clubs; increased funding for cycle and walking paths; promoting good practice to ensure children have safe places to play.
Scotland is one of the first countries to publish a national action plan following the World Health Organisation's global plan on physical activity.
"Cutting the level of physical inactivity in Scotland by 15% by 2030 means addressing all of the factors involved. This includes relatively large action such as investing in our active travel infrastructure so people can easily walk and cycle, and supporting initiatives such as Health Walks for those who need help to become active, to small acts such as encouraging removal of 'No Ball Games' signs." Public Health and Sport Minister Joe FitzPatrick.
Scottish Government Press Release
A More Action Scotland: Scotland's Physical Activity Delivery Plan
A Healthier Future
Play Scotland were delighted to see that play has been included in the new A healthier Future document from Scottish Government.
"We also recognise that all environments where children live, learn and play have an enormous influence on what they eat. That includes not just their home but also early years and childcare settings, schools, shops and retail premises beyond the school gates, and the wider community. That is why actions right across this plan, not just those outlined below, will contribute to achieving our ambition for halving childhood obesity".
You can download the document here
Children and parents: Media use and attitudes report 2018, OFCOM
This report (and the accompanying annexes) examines children's media literacy. Ofcom's definition of media literacy is the ability to use, understand and create media and communications in a variety of contexts. The report is a reference for industry, stakeholders and the general public.
Key findings
• TV sets and tablets dominate device use, but time spent watching TV on a TV set (broadcast or
on demand) is decreasing
• The viewing landscape is complex, with half of 5-15s watching OTT television services like
Netflix, Amazon Prime Video and Now TV
• YouTube is becoming the viewing platform of choice, with rising popularity particularly among
8-11s. Within this, vloggers are an increasingly important source of content and creativity
• Online gaming is increasingly popular; three-quarters of 5-15s who play games do so online
• Social media can bring a combination of social pressures and positive influences
• TV and social media are important sources of news, but many have concerns over the accuracy
and trustworthiness of news on social media
• A majority of online 12-15s think critically about websites they visit, but only a third correctly
understand search engine advertising
• Children are still being exposed to unwanted experiences online, but almost all recall being
taught how to use the internet safely
• There has been an increase in parents of 12-15s and of 12-15s themselves saying that
controlling screen time has become harder; however most 12-15s consider they have a struck a
good balance between this and doing other things
• Parental concerns about the internet are rising, although parents are, in some areas, becoming less likely to moderate their child's activities
Read and download the full report here
Children and Young People: Digital Technology, UK Parliament, House of Lords Hansard
Transcript from Baroness Kidron
That this House takes note of the relationship between the use of digital technology and the health and well-being of children and young people. Full transcript can be found here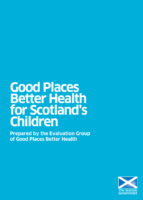 Good Places Better Health for Scotland's Children, Scottish Government
Good Places Better Health (GPBH) is the Scottish Government's Strategy on health and the environment. This new approach recognises that environment has a significant impact on the health of Scotland's people and that action is required to create safe, health nurturing environments for everyone. Link
Growing up in Scotland, Overweight and Obesity aged 10
Childhood obesity is one of the world's foremost current public health challenges.
This challenge is particularly acute for Scotland, along with the UK as a whole, which has one of the highest levels of obesity amongst OECD countries (OECD, 2014). The Growing Up in Scotland study (GUS) has collected data which provides a unique opportunity to further understand patterns of childhood overweight and obesity and to inform policy development.
This report explores rates of overweight and obesity amongst 10 year old children in Scotland and examines how these vary between children with different characteristics. It also investigates whether the level of overweight/obesity changes as the children grow older (from 6 to 10 years of age), and whether the changes are associated with the children's demographic and socio-economic characteristics. Uniquely, using the study's longitudinal data, the report illustrates how individual
weight status changes – that is, what proportion of children move into or out of overweight/obesity between the age of 6 and 10 – and identifies the demographic, socio-economic and related characteristics associated with those changes. Full document here
The health impacts of screen time: a guide for clinicians and parents from Royal College of Paediatrics and Child Health
Our children and young people are 'digital natives' who grow up surrounded by digital
information and entertainment on screens. Time spent on screens – from social media to
computers and television – is a major part of modern life and a necessary part of modern
education.
However, screen time has been cited in the media as the cause of obesity, mental health
problems and educational failure – but the evidence base for a direct 'toxic' effect has
always been contested. Download full document here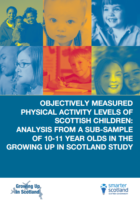 Objectively Measured Physical Activity Levels of Scottish Children (GUS)
This report is an exploration of objectively measured and self-reported physical activity and sedentary levels in Scottish 10-11 year old participants in the longitudinal Growing Up in Scotland (GUS) study. We present these activity levels using two differing approaches:
self-reported (questionnaire based), and objectively measured (i.e. using activity monitors) physical activity. A key objective of this report was to explore the socio-economic and gender patterning of activity and assess whether these patterns differ by alternative physical activity measurement assessment approaches. The analyses presented within the report
form part of a wider academic study exploring the environmental determinants of physical activity in young people that also incorporates GPS data on where young people are most active.
Objectively Measured Physical Activity Levels of Scottish Children (GUS)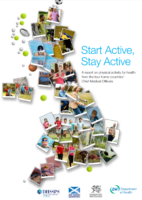 Start Active, Stay Active
Report from the UK Chief Medical Officers.
"Investing in children's play is one of the most important things we can do to improve children's health and wellbeing in Scotland."
Sir Harry Burns, Former Chief Medical Officer Scotland
Little Feet from Living Streets
Little Feet encourages families with children aged two to five years old to review and adapt their routines to allow for more active travel (cycling, walking, and scooting) on the way to or from pre-school/school. Full details can be found here
Good mental health for all – The Mental Health Foundation
Mental health problems affect about 1 in 10 children and young people. They include depression, anxiety and conduct disorder, and are often a direct response to what is happening in their lives.
Alarmingly, however, 70% of children and young people who experience a mental health problem have not had appropriate interventions at a sufficiently early age.
The emotional wellbeing of children is just as important as their physical health. Good mental health allows children and young people to develop the resilience to cope with whatever life throws at them and grow into well-rounded, healthy adults.
Things that can help keep children and young people mentally well include:
being in good physical health, eating a balanced diet and getting regular exercise
having time and the freedom to play, indoors and outdoors
being part of a family that gets along well most of the time
going to a school that looks after the wellbeing of all its pupils
taking part in local activities for young people.
Other factors are also important, including:
feeling loved, trusted, understood, valued and safe
being interested in life and having opportunities to enjoy themselves
being hopeful and optimistic
being able to learn and having opportunities to succeed
accepting who they are and recognising what they are good at
having a sense of belonging in their family, school and community
feeling they have some control over their own life
having the strength to cope when something is wrong (resilience) and the ability to solve problems.
Further information can be found here
Technology and the future of childhood. Wendy Ellyatt, Chief Executive, Save Childhood Movement
Never in human history has a technology so rapidly changed the day-to-day life of children and families and it is clear that this is having a profound impact of human learning and interactions. What we now need to more clearly understand is how best to balance the digital risks with the digital benefits. Some high profile academics are warning of an impending health disaster, whereas others argue that we are simply seeing the fourth industrial revolution. Whatever the truth of the matter we need to be concerned that children in the modern world are being exposed to a hitherto unknown environment that is potentially damaging for their health and wellbeing and that research is struggling to keep up with. To read and download full report click here
Articles for interest
The Right Brain Develops First ~ Why Play is the Foundation for Academic Learning
Did you know that the right brain develops first? It does so by the time children are 3-4 years of age. The left brain, on the other hand, doesn't fully come online until children are approximately seven years old; hence the first seven years being recognized as such a critical period in child development.
"Logic will get you from A to B. Imagination will take you everywhere." ~ Albert Einstein
The left brain's functionality is one of language, numeracy, literacy, analysis and time. It is the logical, calculating, planning, busy-bee part of us that keeps us anchored in the pragmatic world, and in past and future. The right brain, on the other hand, is responsible for empathy, intuition, imagination and creativity. It is where we wonder, dream, connect and come alive. Full article here
BALANCING SCREEN TIME WITH GREEN TIME: Attention Retention Theory Helps Explain Why Nature Play Helps Learning
Nature experiences can be a perfect antidote to the buzzing distraction of modern childhood. After a trip to the forest or the beach, the mind seems reinvigorated. Here's why. Full article
Doctors are asking parents to enforce playtime. World Economic Forum
For many parents, back-to-school season incites a mad scramble to organize kids' activities—from music lessons to math club and after-school tutoring. But a new policy report from the American Academy of Pediatrics suggests we'd do better to pencil in big blocks of time devoted to nothing but free play. Full article
The Power of Play: A Pediatric Role in Enhancing Development in Young Children
Children need to develop a variety of skill sets to optimize their development and manage toxic stress. Research demonstrates that developmentally appropriate play with parents and peers is a singular opportunity to promote the social-emotional, cognitive, language, and self-regulation skills that build executive function and a prosocial brain. Furthermore, play supports the formation of the safe, stable, and nurturing relationships with all caregivers that children need to thrive. Full article
Activities Guide: Enhancing and Practising Executive Function Skills with Children from Infancy to Adolescence
Free play and children's mental health from Dr David Whitebread in The Lancet
One in five children could be at risk of mental health issues, study suggests, The Telegragh
Almost one in five children could be at risk of mental health issues later in life, according to research.
Nearly a fifth (19 per cent) of youngsters show signs of low self-worth and doubt their learning abilities – which a new report argues are strong indicators that a child's wellbeing is at risk. Full article

Children as young as four showing signs of mental health problems, teachers say, The Telegraph
Anxiety, panic attacks and depression are among the symptoms displayed by infant school pupils, according to a poll carried out by the National Association of Schoolmasters Union of Women Teachers (NASUWT). Full article
Physical activity, sedentary behaviour, and sleep: movement behaviours in early life. The Lancet
In 2016, at least 41 million children younger than 5 years worldwide were estimated to be overweight or obese, and this number is likely to increase to at least 50 million by 2030.1 Although the prevalence of overweight or obesity among children younger than 5 years has plateaued in some developed countries, rates have increased among children in low-income and middle-income countries in the past 15 years.2 Obesity at a young age is likely to continue in adolescence and adulthood, resulting in various health and social consequences. Full article
"Research suggests that the unique features of play act across a range of health variables: play comprises short, intense periods of activity which involve novel movements, thoughts and behaviours; play with uncertainty promotes moderate stress, which in turn supports high variable heart rates and the development of healthy stress response systems; and as apleasurable experience, play becomes self-rewarding and builds
motivation for more play experiences."