Scotland's Play Strategy Outcome: All children and young people enjoy high quality play opportunities in stimulating spaces with access to nature, on a daily basis in school, nursery and early learning and childcare.
Scotland's Play Strategy Impact: All school staff, and early years practitioners will receive play training, as part of their initial education and career long professional learning. They will have sufficient skills, knowledge and understanding of play to support play opportunities. All schools and settings will have well designed, inclusive spaces for play which support high quality play experiences. School grounds will be valued spaces for play in local communities. Education managers and leaders in school and early years settings demonstrate their commitment to increasing and developing play opportunities and to supporting staff to do so through priorities in the improvement planning cycle, the ethos and community life of their establishments and their own professional learning and leadership activities.
Getting it Right for Play Poster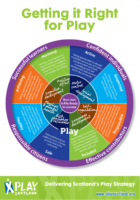 Outdoor Classroom Day 2018 – The Impact of Outdoor Learning and Playtime at school – and beyond
Project Dirt asked teachers who have taken part in Outdoor Classroom Day about the impact of taking children outdoors.
The results are encouraging as they show that there is a fast-growing number of schools worldwide that recognise how important outdoor learning and play is for children, teachers and whole schools, as well as parents and the wider community.
Key findings include:
68% of teachers want more time for children to play outdoors
87% of teachers want more time to take lessons outside.
One fifth (22%) of teachers told us that they have increased playtime since taking part in the campaign, and two fifths (44%) have increased time for outdoor lessons.
97% of teachers worldwide believe that outdoor playtime throughout the school day is critical for children to reach their full potential.
65% of primary schools globally get less than one hour of playtime (recess) a day and 12% get less than 30 minutes.
88% of teachers globally said that children are happier after playing outdoors, and 89% said the same when they learn outdoors.
79% of teachers globally said that the weather stops children playing outdoors.
1 in 7 of respondents worldwide said that nothing prevents children from playing outdoors.
You can download the full report here
Outdoor Classroom Resources
Spending time playing and learning outdoors is essential for a happy childhood and helps children learn important skills for the future.
You can find a list of ideas for topics and lesson inspirations here
Explore Outside the Classroom – FREE download
Your Mission, should you choose to accept it, is to… Explore Outside the Classroom!
But BEWARE!!! This book will change FOREVER the way you see the outdoor world…
A treasure trove of inspirations that can take one lesson or inspire a much longer project, all that your class needs is this booklet, a pencil and some imagination.
In this booklet you will find 10 fun and interesting Missions to complete outside the classroom.
This booklet is aimed at inspiration for all ages.
A Froebelian Approach to Exploring Clay
Children are naturally drawn to malleable materials and clay is a wonderful resource with lots of potential. This pamphlet introduces you to exploring clay with young children. It explains how three-dimensional investigation with clay supports young children's holistic development, provides practical advice on how to set up a clay area in your setting, and suggests how to develop children's clay skills and interests. You can download pamphlet here
A Froebelian Approach to Outdoor Play and Exploration
Play outdoors is a long–standing feature of early years provision. However, its quality can vary and for some children outdoor play means little more than time spent in a bland, plasticised, safety-surfaced play area with little contact with the natural world. Friedrich Froebel, a pioneering nineteenth century educator, had a very different concept, a garden for children which offered time and space for play and exploration in contact with nature. His vision is still vibrant and has increasing relevance for young children's play and learning today. You can download the pamphlet here