"Investing in children's play is one of the most important things we can do to improve children's health and wellbeing in Scotland."

Sir Harry Burns, Chief Medical Officer Scotland
Play is one of the most powerful and important elements in children's enjoyment of their childhood, well-being, health and development. It is a natural and instinctive behaviour which should be encouraged and supported throughout childhood.
Generally, children's well-being is seen as a combination of factors including their physical and mental health, their relationships, their feelings and their comfort within the environments they inhabit. Evidence suggests that play cuts across and influences many of these factors, developing "protective systems" that enhance children's own feelings of well-being.
Susan Isaacs, the educational psychologist and psychoanalyst who founded the Department of Child Development at the Institute of Education in London in the early 1930s, saw play as a way for children to express their personalities with both healing and cognitive potential. She saw play as the `child's work', essential to growth and development, and considered that active play was a sign of good mental health. For Isaacs, developing a child's independence and learning, was best achieved through play, and the role of adults and early educators was to guide children's play.
Getting it Right for Play – downloadable poster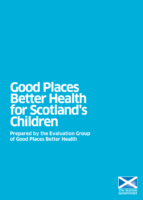 Good Places Better Health for Scotland's Children, Scottish Government
Good Places Better Health (GPBH) is the Scottish Government's Strategy on health and the environment. This new approach recognises that environment has a significant impact on the health of Scotland's people and that action is required to create safe, health nurturing environments for everyone. Link
Start Active, Stay Active
Report from the UK Chief Medical Officers.
"Research suggests that the unique features of play act across a range of health variables: play comprises short, intense periods of activity which involve novel movements, thoughts and behaviours; play with uncertainty promotes moderate stress, which in turn supports high variable heart rates and the development of healthy stress response systems; and as apleasurable experience, play becomes self-rewarding and builds
motivation for more play experiences."